As device capabilities improve, corporate end-users are utilizing their own personal devices for business applications, a trend otherwise known as bring-your-own-device initiatives (BYOD).
Historically, Mobile Device Management (MDM) was only implemented on enterprise owned devices. In recent years utilization of consumer owned devices in the workplace, including smartphones and tablets, has proliferated largely due to growth in Mobile Application Management (MAM) solutions. The shifting technological paradigm will continue to put pressure on enterprises to utilize MAM in order to maximize the value of their employees by leveraging the power of these devices for greater deployment in the field and to prevent security breaches or intellectual property loss. This trend is continuing to encourage MDM providers to develop their MAM capabilities. While on-premise solutions are currently the industry standard, providers are seeing a push to offer cloud-based and Software-as-a-Service (SaaS) implementations as MAM continues to take precedence and enterprise consumers are transitioning to cloud-based corporate infrastructures. The combination of the technological paradigm shift towards mobile and cloud have accelerated M&A activity, with the number of transactions already surpassing 2011 by 42.8% year-to-date.
Dominance of mobile devices drives deal making
As smartphones, tablets and other mobile devices become more powerful and ubiquitous within enterprises, costs inherent to their operation and security protocols that govern their use pose serious management challenges. Where once organizations were able to manage relatively basic devices by standardizing procurement on a single platform (e.g. Blackberry in North America),the exponential evolution of processing power istransforming mobile devices into powerful computing tools that require advanced management across multiple platforms. Historically there have been many providers focused on MDM, but their approach was largely hardware based. Modern technology requires multiple
types of mobile software to tackle the situation completely and must address software distribution, policy, inventory, security, and services management.
This has created a vacuum in the marketplace asmobile players look to invest in or bolt on MDM and MAM solutions in order to supply growing market demand for cross-platform mobility management.
MergerTech has identified a number of transactions in the Mobile Device and Application Management verticals by global software and telecom entities. Multiples paid on targets trailing twelve months revenue exceeded 2.0x, while transaction values range from $1 million to over $90 million.
MergerTech anticipatestargeted acquisitions to continue into Q2 2013 and beyond as the demand for cohesive enterprise mobile device solutions and strategies continuesto develop in scope and sophistication.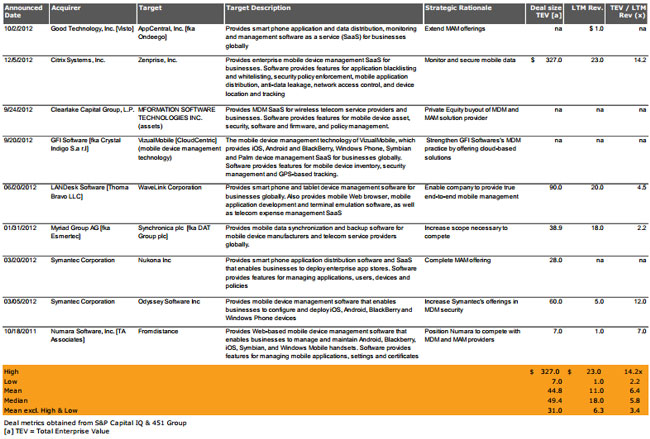 (This report prepared by Frank Jarolimek-Proner, Associate, MergerTech.)