Indian pharma firms continue to be attractive cross-border M&A targets. NYSE-listed pharma major Abbott Labs has inked a deal with Piramal Healthcare to acquire Piramal's Healthcare Solutions business (Domestic Formulations), for an up-front payment of $2.12 billion, plus $400 million annually for the next four years, according to a statement from Abbott.
Abbott will pay Rs 785 per share. On Friday, Piramal Healthcare stocks went up to Rs 599.9, which was 52-week high and reached Rs 518 and is now being traded at Rs 553.65, which is 2.81% lower than yesterday's closing price.
This deal will push Abbott to the number one slot in the Indian pharma landscape. Abbott, which will fund the transaction with cash on the balance sheet, says, the deal will be conducted through its wholly-owned subsidiary. The deal, subject to Piramal Healthcare shareholder approval, is expected to close in the second half of 2010. Abbott estimates the growth of its Indian pharmaceutical business with Piramal to approach 20% with expected sales of over $2.5 billion by 2020. According to Reuters, Abbott was advised by Morgan Stanley.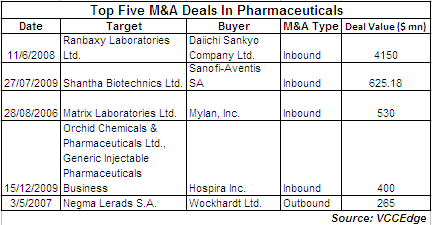 India, one of the world's fastest-growing pharmaceutical markets, will generate nearly $8 billion in pharmaceutical annual sales this year, a number that is expected to more than double by 2015. The Mumbai-based Piramal Healthcare Solutions business has a comprehensive portfolio of branded generics with annual sales expected to exceed $500 million next year in India, and market-leading brands in multiple therapeutic areas, including antibiotics, respiratory, cardiovascular, pain and neuroscience. This business grew 23% in 2010 (fiscal year ended March 31, 2010).
Piramal's Healthcare Solutions business will become part of Abbott's newly created, stand-alone Established Products Division. The assets to be transferred include the company's manufacturing planst in Baddi, Himachal pradesh and rights to approximately 350 brands and trademarks. The sale will also involve the transfer of the employees of the domestic formulations business. Piramal's Healthcare Solutions business employs over 5,000 people in India. Abbott, which is celebrating its 100th year in India, has more than 2,500 employees across all of its businesses there.
The business that will continue to be under Piramal include custom manufacturing for third parties, critical care, over the counter consumer products, manufacture and supply of active pharmaceutical ingredients (API), vitamin and fine chemicals, diagnostic medical devices and equipment and dignostic services and clinical resreach services. It will continue its drug discovery and research through Piramal Life Sciences Ltd. For a period of eight years, Piramal will not engage in generic pharmaceuticals business in India and other emerging markets.
Ranjit Kapadia, vice-president, institutional research, HDFC Securities, told VCCircle, "The valuation given to Piramal Healthcare is very attractive. As Abbott wanted to make a significant presence in India, they feel it is reasonable. The combination of popular brands, strong distribution channel, and US FDA-approved manufacturing plants will give an upperhand to Abbott through the deal. Also, Piramal's barnds have presence across the emerging markets." Normally, a company like Abbott would have taken a minimum of 7-8 years to make strong presence through organic growth. But the deal takes them to the number one slot, he adds.
"With this deal, the combined Healthcare Solutions and Abbott businesses will become the clear market leader in India, with a market share of approximately 7%," said Ajay Piramal, chairman, Piramal Group.
According to Abbott, this deal further accelerates Abbott's emerging markets growth following the recent acquisition of Solvay Pharmaceuticals and announcements last week of Abbott's collaboration with Zydus Cadila as well as the creation of a new stand-alone Established Products Division to focus on expanding the global markets for its leading branded generics portfolio.
"This strategic action will advance Abbott into the leading market position in India, one of the world's most attractive and rapidly growing markets," said Miles D. White, chairman and chief executive officer, Abbott.
According to Abbott statement, branded generics have significant brand equity in many international markets, providing durable, sustainable franchises for future growth. Today, branded generics account for 25 percent of the global pharmaceutical market, have the majority of market share in the largest emerging markets, and are expected to outpace growth of patented and generic products.
For the year ended March 31, 2010, Piramal Healthcare posted a consolidated total operating income of Rs 3,670 crore, up by 11.9% and net profit was up by 52.4% to Rs 480 crore. Piramal Healthcare, which has shown growth in anti-infective, dermatology, nutritionals and OTC segment, had launched 32 new products and has been ranked no. 1 in the Indian Pharmaceutical Industry in terms of sales from new products. Its Pharma Solutions (Custom Manufacturing) business recorded sales of Rs 880 crore for the last year as compared to Rs 1060 crore during FY2009 as result of closure of its manufacturing facility at Huddersfield, UK. The revenues from Piramal Critical Care business were Rs 330 crore during the year against Rs 130 crore in FY2009.
According to Ranjit Kapadia, the Abbott-Piramal and Daiichi-Ranbaxy deals will increase the significance of Indian assets in the future. He told VCCircle, "The Abbott-Piramal deal will have a huge impact over Indian asset class, especially, in pharmaceutical space. The global pharma majors, whose R&D pipeline getting dried, are keen on the generic (copycat) markets such as India. Obviously, whoever wants to strengthen Indian presence through buyouts, will have to shell out much more due to the higher demand for Indian assets." Those who are reluctant to sell the promoter stakle will start reconsidering expecting such higher valuation," he added.
In 2008, Japanese company, Daiichi Sankyo, acquired over 51% stake in Ranbaxy Laboratories Ltd, at Rs 737 a share in a $4.6 billion transaction. Daiichi Sankyo had bought Ranbaxy promoters stake at 31% over the previous closing price, and a premium of 54% to Ranbaxy's average daily closing price on the NSE for the three months ending on June 10, 2008.