Reuters | Credit: Arvind Kejriwal
According to the exit poll trends announced by all major pollsters, it seems Delhi is set to pick anti-corruption crusader Arvind Kejriwal as the chief minister again as his party Aam Aadmi Party is likely to win a majority of the seats in the 70-member assembly.
Amidst high voltage political drama and a bout of allegations and counter allegations, Delhi state went to polls on Saturday recording one of the highest voter turnouts. According to Election Commission data, votes polled were around 67 per cent till 6 P.M. on Saturday.
All major surveys predicted Kejriwal-led AAP is expected to form government with a clear majority while BJP is expected to do less than its previous tally of 32 in the 70-member assembly.
Congress, which ruled the state for 15 years (3 consecutive terms) before it was voted out of power in 2013, may end up with its worst performance as the party is predicted to win an insignificant 2-4 seats in the assembly elections.
In 2013 assembly elections, incumbent Congress had won eight seats, BJP-led alliance winning 32 and AAP bagging 28 seats in its debut electoral foray.
Kejriwal had led a short-lived government in 2014 with the external support of Congress, but he quit the office after 49 days in power alleging Congress was not supporting him in implementing the anti-corruption body Lokpal, among other issues. Delhi state has been under Central rule since then.
If the exit poll trends for the elections concluded on February 7 turn out to be true on February 10, the counting day, then this will be the first major setback to Prime Minister Narendra Modi who was the major face of the BJP campaign in Delhi. Also after winning the General Elections to Lok Sabha in May 2014, this will be the first defeat BJP will face at the hustings.
BJP, which introduced its chief ministerial candidate Kiran Bedi much closer to the elections, seems to have lost sheen in Delhi in just eights months after its historic victory in Lok Sabha elections, according to the opinion polls, while Ajay Maken-led Congress was not in race at all in the state.
Data from exit polls which takes into account the survey till 3 P.M. showed AAP leading with over 40 seats. An average of all polls shows AAP gaining a clear majority with 41 seats while BJP ending up with 27 seats and Congress winning 2 seats. Most polls show an improvement in the vote share of BJP and AAP, while that of Congress has drastically declined.
A jubilant Kejriwal, chief of AAP, said on learning the exit poll trends that "Delhi has rejected the politics of caste and religion."
The results of the Delhi election are due on Tuesday, February 10, 2014.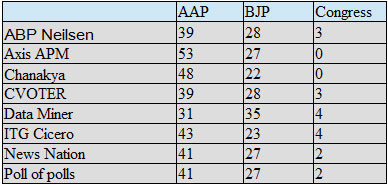 Aam Aadmi Party's chief strategist and senior leader Yogendra Yadav attributed the success (if the exit polls hold true) of AAP to two factors - AAP's organisational building and a positive campaign.
Two things which gave AAP an edge: 1. Solid org building down to booth level. 2. +ve campaign thru Delhi Dialogue. BJP did the rest for us!