Betterplace Safety Solutions Pvt Ltd, a platform that manages the semi-formal workforce, has raised $3 million (Rs 20.4 crore) in a Series A round of funding from a new investor 3one4 Capital, a top executive told VCCircle.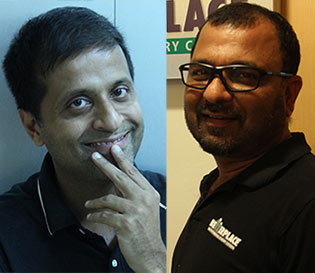 Existing investors Venture Highway and Unitus Ventures also participated in the round, said Pravin Agarwala, co-founder and chief executive, BetterPlace.
The fresh funding will help the company expand its solutions into skilling, compliance and fintech services as it aims to consolidate its position as a single platform for the semi-formal workforce in the country.
"A significant part of the funds will be utilised to strengthen the existing ecosystem using frictionless solutions powered by artificial intelligence and machine learning," added Agarwala.
The Bangalore-based company had initially raised $970,000 (Rs 6.6 crore) in seed funding from India-focused early-stage investor Unitus Ventures in February 2016. In the same year, it had received an undisclosed amount of investment from Venture Highway, which was founded by Samir Sood, former head of corporate development for South Asia and Australia at Google, and advised by Neeraj Arora, business head at WhatsApp.
BetterPlace was founded in 2015 by Agarwala and Uday Singh, who functions as an advisor. The company provides employee lifecycle management services such as onboarding, background verification, training and certification, and attendance management to employers while helping employees get re-skilled and avail financial services like loans and insurance.
The company seeks to address the nearly 450 million Indians working in the informal blue collar market comprising of various jobs such as security guards, drivers, plumbers, electricians, mechanics, housekeeping, domestic workers and construction workers.
BetterPlace claims it has helped employers hire more than 1.5 million people with the right skills and credentials. It has also helped make 1.2 million people credit ready using their proprietary trust scoring algorithms, and are currently adding 8,000 new individuals daily.
Saurabh Tandon, co-founder and chief operating officer, BetterPlace said that the company is currently doing an annual recurring revenue (ARR) of $4 million, with a monthly growth of 13-15%. It is seeing strong traction from logistics, on-demand, IT-ITES, schools, facility management, and private security verticals.
"If you go by the current order book and projected growth, the firm is most likely to cross $15 million in net revenue over the next 18 months," added Tandon.
"At a time when long-term investments in human resources and labour empowerment have started to yield true productivity improvements in our economy, such a value proposition can leverage real horizontal innovation advantages and contribute even more powerfully to industry across the Spectrum," said Pranav Pai, managing partner at 3one4 Capital.
The new fund is expected to write cheques ranging from $250,000 to $2 million and keep high reserves for follow-on investments.
Its first fund, which was launched in early 2016 and raised Rs 100 crore (about $15 million), backed 43 companies including human resources startup Darwinbox; online meat and fish ordering startup Licious; biotech firm Bugworks; ed-tech startups Magic Crate and Oust Labs; fin-tech startups Faircent.com and SwitchMe Technologies; farm-tech firm Aibono; digital media company Yourstory Media; and data analytics firm Tracxn.
The VC firm invests in machine intelligence services for enterprises, automation, ambient intelligence technologies, ed-tech, fin-tech, media and content development, and health. It also allocates a portion of its capital in US-focussed companies having an India play.