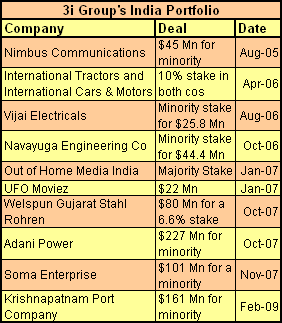 Private equity fund 3i Group has sold 80% of its stake in Mundra Port and Special Economic Zone Ltd (MPSEZ) in open market on Friday. The UK headquartered fund sold 1.42% stake in MPSEZ through its holding firm 3I Vehicles Mauritius Ltd for a total sum of Rs 165.33 crore. It continues to hold a 0.36% stake in the Ahmedabad-based Adani group firm. The shares were sold at a price of Rs 290.34 per share on the National Stock Exchange through a single bulk deal.
3i Group led a $100 million investment round in MPSEZ in 2006 with Singapore sovereign wealth fund GIC. Both firms invested $50 million each in form of convertible bonds, which were exchanged for 1.78% equity stake at the time of IPO. GIC continues to hold its 1.78% stake.
As per Friday's closing prices Rs 309.5, 3i's remaining 0.36% stake in MPSEZ is valued at Rs 44.35 crore. 3i may just be able get back the amount of its investment. But the depreciation of the Indian rupee will certainly cause a fall on its realised investment once it converts rupee into dollar.
3i has invested $227m for a minority stake in Adani Power Private Ltd, which is also an Adani group firm.
Exit time?
This exit by 3i Group comes after its recently appointed chief executive Michael Queen has said it's turning the heat up on the speed of  realisation on small minority investments (SMI) and venture portfolios. The private equity firm has decided to deleverage its balance sheet by selling its small minority investments (SMI) and venture portfolios valued at a total £883 million at end-September.
The net debt of 3i Group at end of 2008 was £2.11 billion and the available cash and credit lines was £839 million. 3i has said that it has already realised £181 million from asset sales in January and February.
Mostly 3i Group's investments in India are minority stakes. Though the exact stakes in its India portfolio is not known. It also manages an India-dedicated $1.2 billion infrastructure fund.