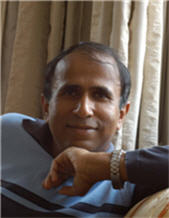 Armed with $19 million in third round funding, serial entreprenuer K Ganesh (right) is gearing up for an aggressive global expansion and acquisition-led growth for his education venture TutorVista Global Pvt Ltd. In one of the largest venture funding rounds in recent times, the Bangalore based online education provider last week raised $12.5 million from the UK based publishing giant Pearson Group and another $6.5 million from the existing investors Lightspeed Venture Partners and Manipal Education and Medical Group (MEMG).
Most of this capital will be used to expand in foreign markets, while, in India, it will go in for an acquisition overdrive of schools and school managements, besides tutorial companies in states where it does not have a presence.
TutorVista Founder and CEO K Ganesh told VCCircle: "We want to expand to other geographies like the UK and Australia in the coming year." Ganesh says that his company has so far notched up 10,000 students as paying customers - of which 90% are from the US and the remaining belong to 48 different countries. (The company charges students a subscription fee of $100 per month for unlimited one-on-one tutoring, while the prices for programmes for students in India start at Rs 699 a month).
Its overseas plans include launching online global English programmes, which will be available in all non English speaking countries. The company already has about 600 Korean students who learn English. TutorVista employs 800 teachers, who work from their homes in India.
TutorVista, founded three years ago, has so far raised a total of $38 million. Its initial capital came from Sequoia Capital, while the second round of $18 million was led by Lightspeed Venture, and joined by Silicon Valley Bank and MEMG. The well-funded company is now looking at making more acquisitions in India, which will include buying schools and school management rights through its division Manipal Schools, and also local tutorial businesses.
Manipal Schools acquires management rights of schools, brands them, employs the teachers, trains them and puts its content and curriculum. Manipal Sharda School, Mysore, is one of the schools acquired and branded by the company.
"There are a lot of schools who have done a great job of coming up to a certain stage. Now to get to the next stage, they require capital, management bandwidth, technology and a lot of content. We are able to bring all of this and the corporate processes of scaling to these schools," says Ganesh. TutorVista has trained over 3,000 teachers in the last three years. It also understands the India curriculum since it had acquired Edurite Technologies, a company that has been in existence for 8 years and has been developing curriculum in India.
TutorVista, which began as an online education provider to the US students, entered Indian market in 2007 through the acquisition of Edurite Technologies, a provider of technology solutions to the education sector. Here the company follows an hybrid (online-offline) model where it's more of delivering education via brick and mortar centres with a heavy reliance on technology. (Ganesh says online-only education model will not work in India because of poor internet penetration.)
Edurite, now renamed as Manipal K-12 Education, provides ICT (Information Communication Technology) solutions to schools in India and charges on a per student per month basis. "This is very similar to the Educomp's business model," says Ganesh. The company currently provides solutions to 200 private schools and about 2,000 government schools.
It also runs Edurite Tutorials in India, which follows the physical coaching centre model. It offers coaching for classes 9th to 12th for board examinations, and also for medical and engineering entrance examinations. Since they are largely based in Karnataka only, TutorVista is looking at buying similar businesses in other states.
"We can look at acquisition as a method to gain local management talent and footprint. There are a lot of passionate entrepreneurs who are very strong in education but they don't have the capital or the ability to scale nationally. We can bring them together under one platform and scale nationally."
Even though Pearson has come in as a financial investor, TutorVista is looking for a large-scale strategic alliance with the UK-headquartered company in its various markets. For instance, Pearson is a strong player in the US market which also is the home of 90% of the TutorVista students. Pearson's products in the US include books, Student Information System (SIS), and an assessment tool called Stanford Assessment. Ganesh sees immense synergies between the two companies. He says: "Pearson gives us the access and the reach."
Secondly, Pearson has got world class content and assessment that we can leverage, combined with TutorVista's internet platform and its Indian teachers." Pearson, in turn, gets to offer TutorVista's services and digital capabilities to its clients. The US is a growing market for TutorVista, claims Ganesh, as the conversion till about 8-9 month ago was only 1% while now it is around 5-6%.
For Pearson, India is a high growth market where it has just announced an investment of $30 million. Besides the $12.5 million funding in TutorVista, Pearson has also committed a $17.5 million funding in a vocational training joint venture with Educomp Solutions Ltd, a Gurgaon based company that provides technology solutions to schools.