India's 50 largest companies by market valuation have reported a 10.3% rise in the number of sexual harassment complaints filed by women for the year through March 2017, with information technology firms and banks topping the list.
The companies, part of the National Stock Exchange's benchmark Nifty index, reported a total of 579 cases for 2016-17 compared with 525 the year before, according to data compiled from their annual reports. Of the 50 companies, 34 reported at least one case while 14 reported no case. State-run Bank of Baroda and Coal India Ltd didn't specify any case during the year.
Wipro, India's third-largest software services exporter, was on the top of the list with 116 reported cases.
However, its annual report shows that the numbers are for the calendar year 2016. The company had reported 111 such cases for 2015.
ICICI Bank, the largest private-sector lender, and No.2 IT firm Infosys Ltd followed Wipro in the list.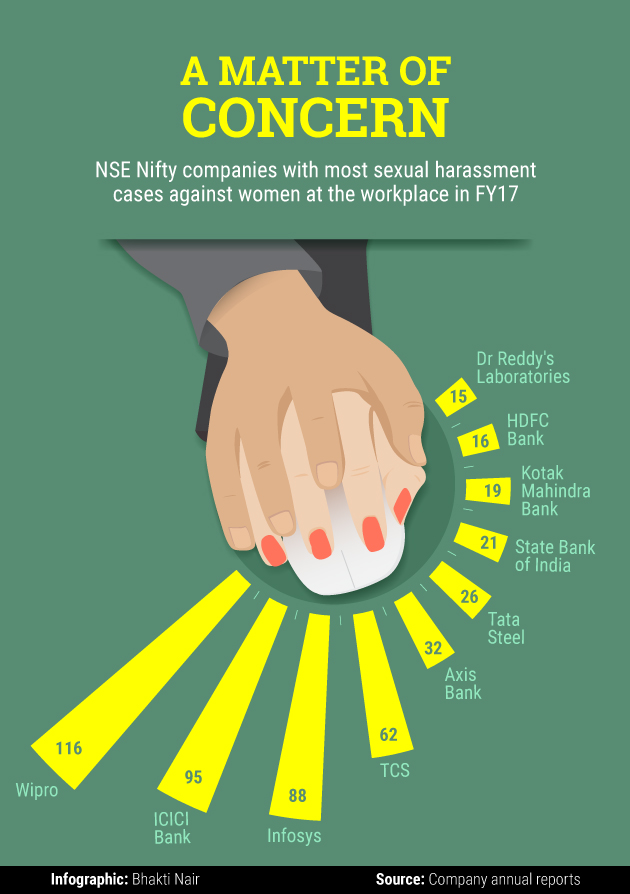 This is the third year for companies to report such incidents, after the implementation in 2014 of the Sexual Harassment of Women at Workplace (Prevention, Prohibition and Redressal) Act, 2013. The law made it mandatory for listed companies to report the number of sexual harassment cases and what steps they take for redressal.
Industry observers say the data show that women working in the corporate sector have started to raise their voice against sexual harassment at the workplace, something considered a taboo just a few years ago.
"The reporting of a larger number of cases should be taken in a positive light because this means women are coming forward and raising their voices," said Vishal Kedia, founder of Complykaro Services Pvt. Ltd, a firm that provides advisory and training services on laws to prevent sexual harassment.
"Sectors such as IT and banking are much more organised and mature compared to say infrastructure or manufacturing, and hence the number of such complaints are much higher," said Kedia. "In many sectors, women don't even know the complaint mechanism and hence a number of companies are reporting zero complaints in their annual reports."
Richard Lobo, executive vice president and HR head at Infosys, said: "An increase in the number of reported cases of sexual harassment is an indication that our employees trust the company's process to do the right thing and address their concerns."
Lobo added that Infosys was one of the first companies to set up an internal committee to look into matters of sexual harassment at the workplace after the Supreme Court issued guidelines in this regard in 1999.
Among the top IT firms, only Tech Mahindra Ltd said it did not receive any sexual harassment complaint during the year.
Email queries to Wipro and TCS remained unanswered till the time of filing this report.
TK Srirang, HR head at ICICI Bank, said that women employees form a sizeable part of the lender's workforce and that it has in place a policy to prevent sexual harassment at workplace.
"The high number of complaints only go to show that the company has created a culture where people have the confidence to report an incident knowing that it will be dealt with utmost diligence and confidentiality…We would definitely want the numbers to come down but not at the cost of our colleagues under-reporting such incidences," Srirang said.
In the banking sector, other lenders that received complaints were Axis Bank, State Bank of India and Kotak Mahindra Bank. HDFC Bank and YES Bank reported 16 and 10 such cases, respectively.
In the pharmaceutical sector, Dr Reddy's Laboratories Ltd reported 15 cases while Lupin Ltd and Cipla Ltd reported 14 and three cases, respectively.
Anand Desai, managing partner at law firm DSK Legal, says the laws dealing with sexual harassment pertain mainly to the workplace and that this needs to change according to the times. He said that video calling is a common part of business communications these days and this is a grey area if any untoward incident happens during such communications.
The most high-profile case of sexual harassment in an Indian company was that of Phaneesh Murthy, a former director at Infosys who was fired from the company on such charges. In 2013, he again faced similar charges when he was chief executive at IT firm iGate Corp and had to leave the company.
"It has more to do with the size of the organisation than the sector they operate in. More the people, higher would be the chance to have cases of harassment," said Tahera Mandviwala, partner at Mumbai law firm TDT Legal. "Most mid-to-big companies follow compliances but it's the smaller companies and startups where awareness and systems to that effect are yet to be implemented."
Globally, US cab-hailing firm Uber Technologies Ltd is the most prominent recent example of a startup that has been embroiled in sexual harassment cases. In India, Arunabh Kumar, founder and CEO of The Viral Fever Media Labs, stepped down in June after he was accused of sexual harassment by a former colleague. In April, a former employee of news and infotainment website ScoopWhoop had accused co-founder Suparn Pandey of sexual harassment and assault.
Mandviwala said that while a mechanism that empowers women to report sexual harassment is important, equally critical is awareness among colleagues to prevent such incidents. "Reputational damage is more harmful than financial losses. That is what driving companies to have robust systems," she said.
*This article has been updated to add a comment from ICICI Bank.