Since the ouster of Cyrus Mistry last month, many investors have been concerned about the value of their investments in Tata Group companies.
The value of LIC's stake in 11 Tata Group companies has fallen by Rs 2,470 crore ($370 million) since Mistry was removed as the chairman of the group's holding company on 24 October.
Ratan Tata, Mistry's predecessor and who has now taken over as interim chairman, had met with LIC's acting chairman VK Sharma on October 27, presumably to soothe any concerns its largest institutional shareholder might have.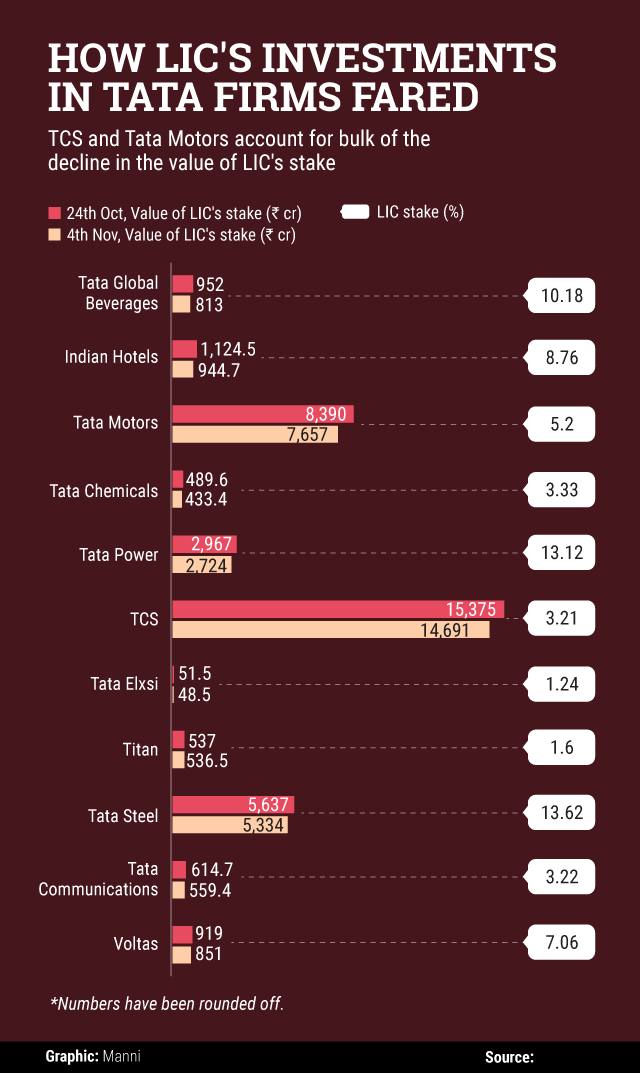 For many investors, the drop in share prices in Tata group companies would have been a cause for concern. However, for the state-run insurance behemoth, this amount is peanuts. And this is perhaps why there has not been any official concern from the insurer since the controversy broke out.
LIC did not respond to an email seeking comment. But according to investment adviser SP Tulsian, LIC is known to invest around Rs 60,000 crore in equities each year. That's 24 times its notional loss between 24 October and 4 November in the Tata group companies. For the record, LIC recorded a net profit of Rs 11,495 crore in 2015-16 from the sale of equities and government securities, according to its annual report.
Also, while LIC is a big investor in Tata Group companies, it has equally high exposure—and even higher—to some other companies. For instance, its investment in cigarette-to-hotels company ITC alone was worth Rs 43,158 crore at the end of trading hours on 4 November, as per BSE data.
Its investment in engineering giant Larsen & Turbo and and state-run explorer ONGC is worth almost Rs 21,000 crore each. In Infosys, LIC holds a 6.46% stake that is worth Rs 14,343 crore; the company's promoters collectively hold just 12.75% in the software services exporter.
"For LIC, investments in the Tata Group is only a part of its total portfolio. In any case, they make long-term decisions, mostly under the instruction of the finance ministry," said Tulsian.
Clearly, unless the conflict within the Tata Group stretches for a long period, it may not be more than a wrinkle in LIC's world.