While more than $350 million have been invested in Indian e-commerce over the past three years, a majority of the capital has gone into only one kind of e-commerce business model, i.e., inventory-led e-commerce models. The inventory led e-commerce models have almost the same economic characteristics as the traditional brick-and-mortar model when it comes to inventory risk exposure, warehousing, and sourcing. Even at an approximately $65 billion in gross merchandise value (excluding Kindle, AWS and digital downloads) in 2011, Amazon did not produce more than 0.25 per cent in operating margin from Amazon.com. The entire Indian e-commerce (excluding online travel) is around $550 million and is, at least, 8-10 years away from the scale, where inventory-led model may even turn profitable.
Let's understand the basic economics of retail business
In retail industry, the blended gross margins are at around 30 per cent – low gross margins for categories such as mobile or electronics; moderate gross margins for categories such as home appliances and health & beauty; and high gross margins for clothing, shoes, accessories, watches, jewellery, etc. In all, retail is a 30 per cent gross margin business. After this gross margin, a retailer has to recover money for marketing, IT, operations (warehousing, sourcing, retail ops, etc.), lease/rental and G&A. If a retailer is highly efficient, in net-net he can achieve 7 per cent operating margin. For a 7 per cent operating margin, a retailer has to show that his inventory turnover is 10x or 12x and has no unsold inventory. The operating margins will be in negative territory if the retailer has more than 6 per cent unsold inventory.
So in general, retail earns 30 per cent in gross margin and spends 12 per cent on marketing, 6 per cent on lease/rental, 1 per cent on technology, 3 per cent on operations and 1 per cent on G&A to make 7 per cent operating margin. And if there is a high level of unsold inventory, the 7 per cent operating margin can be operating loss (assuming a minimum of 7 per cent unsold inventory).
Let's define what makes an e-commerce company an inventory-led business model
Almost all e-commerce companies operating in India are theoretically based on an inventory-led business model. While there is no hard and fast or stringent definition, let me highlight four distinct things that set apart what is an inventory led e-commerce model versus not an inventory-led e-commerce model, for example, a marketplace model. First of all, the value proposition to a customer for the inventory-led e-commerce models is that whatever a customer is buying from them, they have those items in their inventory stock. Second, there is only one seller for each product sold by these companies and that would be these companies themselves. Third, these companies are merchants of record for the products sold by them. And finally, these companies issue invoices to the customers in their names. On the other hand, all the four distinctions are not applicable on a marketplace model.
After setting the stage with these two aspects, let me now highlight the five reasons why inventory-led e-commerce companies will not be profitable… ever!
1) Existing practices by inventory-led Indian e-commerce players are not sustainable. Most of the Indian e-commerce players have inventory-led models. However, these companies try to reduce their inventory exposure by restoring to something called SOR or sales on return basis. The sales-on-return basis is a working capital management technique or negotiation style that assumes that the e-commerce company is buying an item from a supplier and in case the product is not sold within a stipulated time, the supplier will take the item back. Another practice that is in vogue is to create a back-to-back arrangement, i.e., get a customer order and then procure the item and ship it to the buyer. These practices are fine when you are doing 5-3,000 unit shipment per day but beyond that, it is not sustainable. Most of the inventory-led models promise customers that anything you see on my site is in my warehouse and that may not be true. More importantly, SOR and back-to-back are clever working capital management but not a choice of business model.
2) Inventory risk means 12-15 per cent gross margin is down the drain. Because sales on return and back-to-back are not sustainable practices, majority of the inventory-led e-commerce models are either buying in advance more and more products they sell or will soon have to start holding inventory. And it does not matter how large or sophisticated a retailer or an e-commerce company is – every year, he is left with 12-15 per cent unsold inventory. That means, even if you are making sizable gross profits, Opex and unsold inventory will push you down into losses as seen with the majority of the e-commerce companies. Now, if you add the cost of storing items, i.e., running monolithic warehouses with inventory and store managers, insurance cost, security cost, etc., this can take another 3-5 per cent toll in terms of costs.
3) Marketing spend is very reckless. This is less to do with the inventory-led model but one common characteristic among most Indian e-commerce companies is that they have very high cost of customer acquisition. But if you are an inventory-led model, the pressure of selling it sooner and faster is higher and that means more aggressive marketing techniques. Most aggressive are the marketing practices, the higher cost of customer acquisition that you incur. Indian e-commerce companies who are sitting on sizable inventory, on an average are spending 25 per cent of their gross revenues on marketing, if not 35 per cent, in 50 per cent of the cases. With this level of marketing spend, profitability is almost next to impossible.
4) Own delivery network has no economics at any scale. Many of the e-commerce companies are offering their own branded delivery. These companies have been investing heavily in creating their own delivery networks for a country like India, which has poor infrastructure and high diversity. Creating your own delivery network is not only a monolithic task but also economics is highly unattractive. In my view, own delivery network means a minimum of Rs 150 per package in delivery cost. If you are selling deodorants, books or other lower-price items, how can you ever make money with your own delivery network?
5) Free shipping. Majority of Indian e-commerce companies are offering free shipping and taking a toll of around 6 per cent of their gross revenues for funding free shipping. In the US and Western Europe, free shipping for an online shopper is a privilege, not a right.
Below, I present how the unit economics for the inventory-led e-commerce model looks like with four scenarios. But in all scenarios, I am assuming Rs 1,000 as average selling price (ASP). With lower ASP, the unit economics will actually start to look more unfavourable.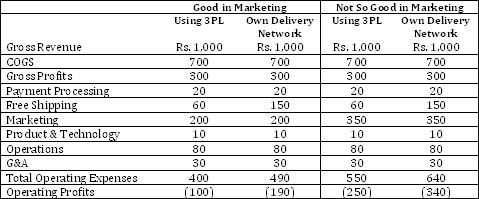 The bottom line is that inventory-led e-commerce business models are highly unlikely to achieve profitability and extremely large scale, unless there is access to a cheque book with never-ending leaves. For a 30 per cent gross margin business, they are spending 45-50 per cent on operating expenses and that is not changing anytime soon. The inventory-led business model will keep on relying heavily on capital and even 20x or 30x scale from the current level may not deliver the path to profitability and huge appetite for capital.
(Sandeep Aggarwal is the founder and CEO of "ShopClues.com". He is counted amongst leading Internet experts globally, and has regularly appeared on CNBC, Fox, ABC News and regularly quoted by Wall Street Journal, Fortune, Forbes and other prominent media outlets.)