Yes Bank is the latest among banks to join the private equity race. India's youngest bank wants to come up with various niche or specialised funds. On the anvil are a cleantech fund, an infrastructure fund, a distressed asset fund and a venture capital fund for education and healthcare. The bank plans to have about $1-1.25 billion of assets under management by 2010. Once launched, it will join the club of banks like ICICI Bank, State Bank of India, Axis Bank, and Kotak Mahindra, who have significant PE operations.
Vivek Mehra is heading up the private equity division of Yes Bank. Prior to joining Yes Bank, Mehra was the managing director of a Delhi-based boutique investment bank VA Tech Finance, which was a joint venture with an Austrian firm and Mehra. VCCircle's Shrija Agrawal spoke to Mehra about Yes Bank's strategy for private equity investing. Excerpts:
Why have you decided to launch a private equity division?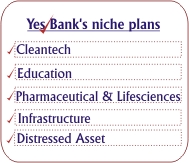 Our balance sheet size is about $4 billion. As a bank, we are focused on the SMEs and we have close to 500-600 clients operating in that space. Given that we are a young and small bank, our focus has been on the sunrise sectors. Some of the companies we have worked with over the past 5-6 years include Suzlon which is now a wind power giant. The key issue that the bank has faced is its inability to take equity positions in businesses. A lot of businesses want support from players they trust, banks they have worked with. We are the in-house bank for Suzlon. A lot of companies keep asking us: "Why don't you take equity positions in us?" So because of our inability to take equity positions and of our licensing agreement with RBI, which has very strict stipulations regarding equity investing, the bank decided to develop a strong off-balance sheet fund business.
You also have an investment banking business. Is there a Chinese wall between the investment banking division and the private equity business?
Absolutely. Both the businesses are completely separate. As of now, we are currently housed within the bank because of our licensing agreement does not allow us to have a subsidiary. At an appropriate time the private equity business would be spun out as an independent entity. We have strong individual and institutional relationships that can support our private equity initiative.
Isn't there a conflict running a fund and also an investment banking division?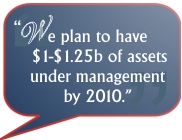 The investment banking division is part of the bank, while private equity will be run independently. We plan to have 4-5 funds over the next few years, and the idea is that the funds will be managed independently. Each fund will have individual fund managers and there will be investment committees on top of each fund. Assuming that we are able to hive this business off, there will be a company which houses these funds. Each of these funds will report into their investment committees without any affiliation to the bank.
The investment banking division of Yes Bank is free to approach PE division with their deals but there will be no obligation to invest. Most of these funds will be offshore funds and the investment coming into these funds require such corporate governance rules.
You said you are planning to have four to five funds. What are the funds that you are planning?
These four to five funds will be spread out over the next 36 months and will not be launched simultaneously. We are not going to have a large general fund, but small to mid-sized specialised funds. The first will be a cleantech fund which will start operating from the first quarter of next year. Then we are also planning a venture capital fund which will have a corpus of $75 million. This fund will invest in sectors such as education, healthcare and so on.
We have plans for an infrastructure fund and a distressed asset fund. The size of infrastructure fund will be somewhere around $500 million. There is a connection between the funds we are planning and the knowledge verticals that Yes Bank has developed. The fund managers at an informal level would be free to have an access to the knowledge and the client base of these verticals. Yes Bank has become strong in these areas. We also have plans for a food & agriculture fund and pharmaceutical & life sciences fund.
Would you be leveraging the existing clientele of Yes Bank?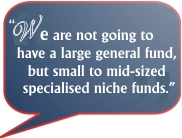 Yes there is an intention to leverage the clientele but the fund business is not focused on the existing client base of the bank, rather it will be just a starting point. We would not only be using investment banking, but also the relationship banking division of Yes Bank which is also very strong. We will source deals from outside of the bank as well.
You had also announced a food & agri fund last year in association with Rabo Bank. What is the current status of that? Rabobank, also one of your investors, has now launched food & agri fund independently?
That fund was temporarily shelved. It was an isolated strategy, and food & agri was being developed as a standalone fund between Yes Bank and potential partners. But the strategy didn't work out. Instead of having a fragmented strategy, Yes Bank has now developed a common platform which has come with the setting up of the private equity group. Also whenever we set up a food & agri fund it will be an independent fund. The size of this fund will be $100-125 million.
Talking about the pharmaceutical & lifesciences fund, how big do you think is the market here from an investment perspective? A lot of investors are said to be looking at the lifesciences sector in India.
Without going into much detail, we believe that there is a significant traction in the pharma and lifesciences space. The healthcare sector is developing, we see R&D happening in the pharma and biotech areas. We believe that there is substantial traction and there are enough number of companies doing original research and entering into the healthcare sector in India and these companies need capital.
Now instead of generic funds providing them capital, there are specialist funds which have the knowledge of these sectors and appreciate how these sectors work. Moving this discussion away from private equity, we can see that stock market has been pricing Ranbaxy in Rs 300-400 range. On the other hand a specialist investor who has come in is pricing it at 2x. So, there is obviously an aberration in the understanding of this kind of market. Our attempt is to really bridge the knowledge gap with this fund, find specialised fund managers who know, understand and can operate in this market and who have the knowledge of the issues at a ground level so they are able to price the deals appropriately.
Could you give me a big picture of the assets under management you would be having under the Yes Bank private equity division?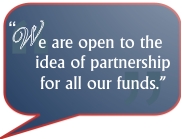 We are still in the process of putting up the fund. But the target size of assets under management is $1-1.25 billon by 2010. But this is very much driven by how the market behaves and it's a very dynamic number and not a hard number. Our focus is on building the enterprise. It's very much driven by where you see the demand for the product, where we see the makets moving, where you see the pricing potential. We have a sector specific strategy and do not have numbers on our mind. In Infrastructure, we are working on a scheme which we believe is very strong and there are businesses for us to invest in. The number would depend on where we see the markets going when we launch the fund.
Your cleantech fund - South Asia Clean Energy Fund – is in association with Global Environment Fund (GEF). When did you start raising this fund? Are you looking for potential partnership for your other funds?
We are definitely open to the idea of partnership for all our funds. As for the cleantech fund, we started raising it somewhere between late 2007 and early 2008 and we received our first commitment in the month of May from Asian Development Bank for about $20 million. Based on this anchor investment, we have gone to several other investors and are in the process of due diligence with these investors.
The fund raising scenario, especially with credit crunch and consequent write downs of banks in the west, is a bit tough. In this context, a new bank like yours forming a private equity division and going to the West to raise funds must be finding it challenging. What has been the reaction of investors?
Let's consider the cleantech fund because that is with the investors right now. As we have been only been raising funds for the Cleantech fund, I will answer the question in that context. Cleantech is increasingly being realised as a high-potential area and there are a number of investors who have made investments in this area.
I am not denying that environment has no impact on fundraising but there are enough number of funds which know GEF and Yes Bank both as institutions which are supporting this fund. There are enough number of investors which have not made allocation to this area yet but believe in the potential of this sector.
Also there have been enough allocations made to these areas which have not been used up yet. People are cautious but also the geographies that we are focused on India and South Asia are also high potential areas for this kind of investment. So from that perspective, people are conservative, but they are also very excited and positive about this development. And we see a fair amount of support for this fund.
So, how is the fund raising excercise coming along?
We have not really started fund raising. The process of raising VC funds would begin by the end of this year. So far we have received very encouraging response which is why we have decided to go ahead with this. Currently, we are very positive on fund raising.
And how big would be the first close?
We have only received anchor investment so far for only on one of our funds- cleantech and yet to receive the other commitments. The first close would be around $100 million to $120 million.
There are so many funds operating in India. How do you think is your entry strategy different?
While there are enough private equity funds and everyone wants to differentiate between themselves, we also believe that there are enough deals in the market. Given the fact there are so many private equity funds and many more coming in, it's probably not mature to say that we have an astounding strategy which is out of the box and that can create ripples.
Almost everything which has a potential theme and a potential philosophy has already been explored or is being explored. We will put in a very competent team and we will have a strong institutional support. We already have a very strong partner for cleantech which is GEF. They have a very sound investment philosophy and have been there for 19 years returning 28% IRR to its investors. So what we are banking on is very strong institutional support, very disciplined process of investing. We will also leverage the brand of Yes bank.
Finally, what is the outlook of investors for India?
I have been talking to a lot of LPs and I see a lot of optimism and they are very positive. When you are looking at private equity, you are really not looking at a six month strategy. You are looking at a market for 5 to 7 years and I see that is very positive. For them, India is still a very attractive market.