Increased urbanization, a supply-demand gap, government subsidies and high returns through multiple revenue streams have made the rather unglamourous water and waste management sectors highly attractive for private equity players.
Water treatment has seen a distinct revival in interest with several PE deals in the past few months while investors are busy eyeing emerging business models in waste.
"We are following this sector very keenly and are looking for strong sponsors for the BOT (build, operate and transfer) projects business with diversified revenue streams, and support from JNNURM (Jawaharlal Nehru National Urban Renewal Mission) funding," said Gaurav Malik, managing director at Olympus Capital Holdings Asia, a mid-market
private equity firm, betting big on the cleantech space in India.
Adds Mayank Rastogi, Partner, Private Equity, Ernst & Young, "In terms of growth, water and waste management sector is growing at 15 - 20% annually and is expected to double in size to $4 billion by 2013."
Private equity funds across the board, from generic growth capital funds to clean technology and infrastructure funds, are exploring opportunities in this area.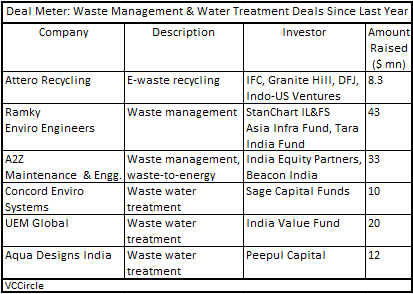 Sample this: Delhi-based UEM Group, specialising in water & waste water collection, treatment and disposal, mopped up Rs 90 crore from India Value Fund. Chennai-based Aqua Designs India, a water management engineering company, raised Rs 55 crore from Peepul Capital. Concord Enviro Systems, a water management engineering company, raised $10 million from Sage Capital Funds in December 2009. Noida-based Attero
Recycling, an electronic waste recycling company, is raising $8.3 million from International Finance Corporation, Granite Hill and existing investors like DFJ and Indo-US Ventures. And in one of the largest PE deals in the space, Ramky Enviro Engineers, which offers
waste and environmental services, raised Rs 200 crore from Standard Chartered IL&FS Asia Infrastructure Growth Fund and Tara India Fund III last year.
"As India transitions to a much more western style of living, where there is lot of packaging and the waste volumes are likely to go through the roof, companies that come with a solution to that waste are going to very well positioned. I see multi-billion dollar waste management companies to emerge from India," said Anand Prakash, Managing Director at FE Clean Energy.
Multiple revenue streams and government subsidies make the waste business attractive with expected return on equity in excess of 25%, say experts. "The sector is very attractive because of the subsidies you get out of JNNURM plus the basic economics of input and output. You get paid to collect the waste and then there is the monetization through sale of byproducts," said Supratim Banerjee, Vice President at India Equity Partners (IEP).
Byproducts of waste include organic fertilizer and waste-to-energy, products which have ready long term demands. Also, processing and disposal contracts expected from municipalities are typically longer than 15 years, thus creating predictable and  annuity-based revenue streams.
The opportunity set only widens with India becoming a dumping ground for e-wastes. According to Nitin Gupta, Founder, Attero Recycling, "IT sector is the largest contributor to e- waste with the growing sale of PCs and laptops across the country. Also, the life of PCs is going down, and there is a growing realisation that avoiding the dumping of hazardous substances have negative health impact."
While large players are yet to emerge, several companies have forayed into this business as part of their other services. A2Z Maintenance & Engineering Services Ltd (backed by IEP, Beacon India Private Equity Fund and Rakesh Jhunjhunwala), which is present in EPC and facility management services, has expanded into municipal solid waste management and waste-to-energy business.
Sonoma Management Partners controlled Technical support and reverse logistics services firm inTarvo Technologies (earlier RT Outsourcing) has also forayed into e-waste recycling. inTarvo raised $13 million from New Enterprise Associates last year.
"The new business model in water which is just taking shape is where municipalities are asking private players to build and maintain their plants. Maintenance is a very lucrative business since there is a high return on capital. The next step of evolution in this business will be when you have private water management," said Banerjee.
While concession-based models are yet to emerge in the water business, established EPC-based businesses and successful PE deals may make this sector a safer bet. An exit from IVRCL Infrastructures and Projects Ltd, which started as mainly as a contractor in the water and sanitation segments, provided ChrysCapital and Citicorp International
handsome returns. VA Tech Wabag, where a management buy-out was sponsored by ICICI Venture, has also filed for a public offering.
Other models in terms of public private partnerships are also emerging in water distribution though it remains to be seen if PEs would invest in it. A PPP for water supply network in Nagpur has received strong interest from private companies including foreign players. "If that project goes through in the way it is currently proposed, then we can see more PPPs in western and southern India," said Sanjay Chakrabarti, Partner & Cleantech Leader, Ernst & Young.
But, the sector is also beset with challenges such as contracting maturity, awarding of integrated contracts and cities/municipalities dictating waste processing technologies. Adds, Malik of Olympus Capital, "The key challenges are regulatory environment, lack of scale
and returns (given the valuation expectations)."