Vodafone India Ltd, the country's second-largest telecom operator, is looking to file a draft red herring prospectus for its proposed initial public offering by the end of September.
The Indian unit of British telecommunications giant Vodafone Group Plc is likely to raise Rs 15,000-18,000 crore through the offering and complete the listing before 31 March 2017, the Mint reported citing sources privy to the development.
The share sale will largely be a primary capital fund-raising exercise. The company will likely use the funds to cut debt on its balance sheet on account of spectrum purchases as well as toward capital expenditure. The parent firm may also look at selling part of its stake, the report said.
SunEdison to sell wind power plant in Andhra Pradesh to Sitec RE
Renewable energy giant SunEdison is in an advanced stage of discussions to sign an agreement with Indian wind energy company Sitec RE to sell a 24 MW wind-power plant in Andhra Pradesh.
The potential deal is likely to be completed within 10 days, The Economic Times reported citing Sitec RE chief operating officer CD Singh.
The US-based firm had filed for protection from creditors in US in late April and this would be its first asset sale in India since the bankruptcy threat arose.
The bulk of SunEdison's India portfolio is solar. It has 410 MW of commissioned solar power and another 1,000 MW under construction across several states. SunEdison also owns wind assets of another 101.6 MW, which it acquired in May 2015 from Spanish renewable energy player Fersa Energia Renovables for $39.2 million.
Apollo Global plans asset reconstruction business in India
Global alternative asset management firm Apollo Global Management LLC is looking to obtain a licence to start an asset reconstruction company in India, the Mint reported.
The move will mark Apollo's presence in the country's stressed asset business as banks try to clean up their balance sheets. Apollo acquires distressed assets globally. In an attempt to tap the special situations market in the country, Apollo has a strategic alliance with ICICI Venture called AION Capital Partners with a corpus of $1 billion.
The report citing an Apollo spokesperson as saying that the firm was evaluating several types of investments in India. The spokesperson also said that the firm, through AION, is focused on the potential for doing structured investments, control buyouts, equity recapitalizations and recapitalizing distressed assets in India.
Reuters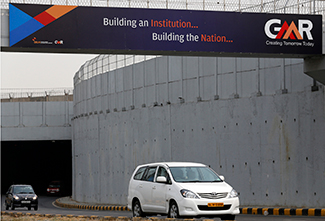 GMR Infra's stake sale plans stuck over valuation
The stake sale plans of GMR infrastructure Ltd, which is looking to sell around 30-33% stake in its flagship Delhi airport to pare debt, seem to have got stuck due to lower valuation.
The infrastructure firm owns a 64% stake in Delhi airport and was looking to raise somewhere around $500-700 million through the partial stake sale at an enterprise value of around $1.5 billion. However, the bids it has received for the stake are much lower than what it was expecting, The Financial Express reported citing sources privy to the development.
GMR is understood to be in talks with global private equity major KKR and Fairfax Financial Holdings of Canada for the stake sale and had wanted to close the deal by March 2016.