"We dedicate this award to the 13,000 field staff of ours who move hundreds of thousands of packages across the country every day," said e-commerce logistics firm Delhivery's co-founder Mohit Tandon after receiving the 'VCCirlce Startup of the Year' award.
Having raised $167 million from Tiger Global Management, Nexus Capital and Times Internet, the five year-old Delhivery is looking to scale up and another round of fundraising is on cards. Online grocery retailer BigBasket and online furniture seller Urban Ladder were the other nominees. Jury member former McKinsey partner Ireena Vittal said there was a tough competition among the nominees. "I think the B2B opportunity seemed a lot more exciting because there's such a fundamental change that they can make to the whole sector," she said.
BigBasket, which lost out to Delhivery, was chosen as the consumer internet company. The company backed by Bessemer Venture Partners, Zodius Capital, Helion Venture Partners and Growth Story, stood out in many ways, according to Valerie Rozycki Wagoner, co-founder of ZipDial who was a member of the award jury.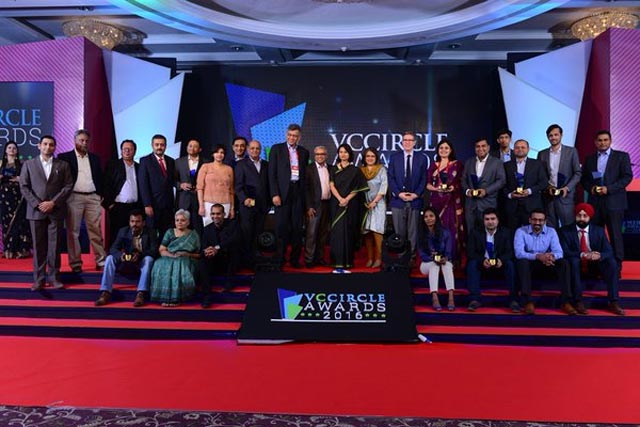 "They are delivering food rather than other types of goods and making that connection to consumers through the marketplace and logistics. It's a tough and interesting problem to solve that they're doing exceptionally well. They're really scaling quite fast," she said.
"This award has come at a time when we are considering to convert ourselves into a bank," said CP Rangarajan, executive vice president, Janalakshmi Financial Services, while receiving the award for the financial services company of the year.
For Dr Ramesh Kancharla, the award for the best healthcare company was another endorsement in his belief in the business case of paediatrics medical care. "When we began everybody said children's hospitals are not going to be successful in India. We have now demonstrated it can be a success. We have 700 beds in hospitals across three states," he said.
"Leveraging technology to promote learning is where we thought Byju's was distinctive," said jury member Anjali Bansal, director and partner at TPG Growth about Byju's Classes which received the award for the education company of the year.
ChrysCapital's exit from Mankind Pharma selling its 10.77 per cent stake for $179.6 million fetched the PE firm the exit of the year award.
"When we invested in 2007, Mankind was not even in top 10 domestic pharma companies. It is the fourth largest domestic pharma company now and we had a 10x exit from this investment," said Kabir Thakur, director at ChrysCapital.
"Each has created a business that is phenomenal and has great potential," said Roopa Kudva, managing director of Omidyar Network who chaired the jury. "In the last 25 years of liberalisation, people who are giving social and economic liberation to the country are really entrepreneurs," said Gopal Srinivasan, chairman of TVS Capital.
"In the last 20 odd years, about $150 billion in PE has been invested in India in about 9,700 deals," said PV Sahad, founder, VCCircle, in his opening remarks at the award ceremony. "As for exits, about a third of that money has been taken out; that means a lot of value has been created by entrepreneurs over last two decades," he added.