Global INcubation SERVices (GINSERV), a Bangalore-based technology business incubator and accelerator, is now in its third year. Set up by a Mysore-based educational institution with support from the Indian government's National Science & Technology Entrepreneurship Development Board (NSTEDB), GINSERV is currently incubating 24 companies, of which three are overseas startups.
It picks 8-10 startups a year for its three-year incubation programme and mainly targets ICT (information and communication technology) companies, broadly divided into three categories – anchor companies (product startups), Indian-origin startups and soft-landing companies (foreign startups).
According to Dr PKB Menon, managing director of GINSERV, "Promising startups also get up to Rs 50 lakh as ignition fund from us. Overseas companies also come in as the founders of a lot of foreign firms are Indian nationals."
GINSERV is also setting up a branch in Maryland soon. "This facility will target Indian companies keen to launch their products/solutions in the US market," added Menon.
Funded startups at GINSERV
Five of GINSERV's incubatees have secured angel/VC funding and one has shut shop. Out of these five, Maxheap Technologies and Logical DB Systems secured VC funding.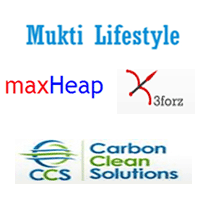 Maxheap, which runs a real estate and apartment management portal, CommonFloor.com, secured an undisclosed amount from Accel India and Tiger Global Management last October. Started by Lalit Mangal and Vikas Malpani, CommonFloor facilitates property search, connects users to relevant service providers and enables user interaction within an apartment community (on the CommonFloor platform).
Based in Silicon Valley and Bangalore, Logical DB Systems is an enterprise software company focusing on the business analytics space. The company says on its site: We are a hot, new-funded enterprise software startup focusing on the business analytics space. We are based in the Silicon Valley and in Bangalore. We are currently in stealth mode as we work furiously to bring our next-generation technology to market." However, there are no details of the investors.
Three companies, which received angel funding, include 3Forz Innovations Software, and New York-based Mukti Lifestyle.
Set up in 2010 by Jankiram Ganesan and Pavan Kumar T V, 3Forz provides an online self-learning project execution platform called Projectyle (still in the development stage), which focuses on IT project execution management. It is an intelligent task assistant, helping create and share actionable tasks. Once a user adds the task, Projectyle will research and add context to it. Its micro mail feature makes user collaboration precise and actionable. Typical task management tools only tell 'what' happened to the task, but Projectyle tells 'what' happened to the task and 'how' it was done.
Headed by Aniruddha Sharma and Prateek Bumb, Carbon Clean Solutions develops and commercialises low-cost and energy-efficient carbon capture technology that can be embedded into new power plants or retrofitted to existing ones. Founded in April 2011 by Joe Fernandes, New York-based Mukti Lifestyle provides advisory services (strategy, M&A, business building) and helps build online business platforms.
According to Menon, founders of another incubatee, Brio Tribes Technologies, a social media analytics firm, were earlier in talks to sell the startup. Last we checked the site was down and the co-founders had moved on to join Flipkart and Atled Technologies, respectively.
Other incubatees

3P Technologies: Focusing on mobile commerce, retail banking, consumer retail and credit/debit cards security. Its flagship product, BankOn, uses mobile phones to verify transactions. This convergence of plastic and mobile technology helps solve many of the security threats in today's consumer banking model.

Chatimity Software: Ensures that chat rooms only have decent conversations. Misdemeanour is penalised and it assigns a niceness score to each user. If one misbehaves in a chat room, his/her score decreases or account gets blocked.

CircuitSutra Technologies: A semiconductor company that focuses on system-on-chip (SoC) modelling and embedded software services, using virtual platforms.

CloudMPower Technologies: Specialises in cloud computing, mobile applications, social networking and location-aware apps.

Excel-Soft Technologies: Offers products and services in the e-learning domain. It caters to educational publishers, universities and schools, government, defence (it has deployed some of its technologies for Indian Navy and Royal New Zealand Navy) and corporate houses.

GoCoop Solutions and Services: Provides value-added business services, including a co-operative directory and a marketplace for co-operatives.

Gradus Engineers: Provides project management consultancy and other project-related services. It co-ordinates and manages various activities of different vendors/agencies to ensure that the project is completed on time within the authorised cost and the required quality standards.

I-nu-IT Cloud Technologies: Offers cost-effective web solutions to Indian SMEs in critical areas like customer orders, sales, purchase, inventory, etc.

MeshLabs Software: A B2B company, MeshLabs' content mining and analytics software is built to make any text-based content ready for rigorous analysis using traditional BI tools or innovative dashboards to identify actionable insights.

Meta Yage Consulting: Focuses on intellectual property (IP) services including IP strategy, patent process outsourcing and legal services.

Plackal Techno Systems: Develops smartphone apps for consumers and smartphone-based solutions for enterprises on all available operating systems.

Plavaga Software Solutions: Offers customised content and document management solutions, as well as e-commerce solutions, software engineering and domain consulting.
Sankhya Technologies: Develops software platforms and offers innovative, platform-driven solutions to industries. Offerings include SANKHYA V-One for business process automation for SMEs, Teraptor for embedded system design automation and Varadhi, a middleware solution for distributed computing.

Webyana Technologies: Develops platforms and tools that can help small businesses leverage the power of the internet to market their products, build brands and scale operations in a cost-effective manner.

Zentron Labs: This startup is into embedded vision products and machine vision solutions.
Overseas startups
The incubator currently has three overseas firms on board. These include Singapore-based CNA Engineering, US-based o9 Solutions Management India and Canada-based Comdev India.

CNA Engineering: Provides integrated building management solutions and offers specialised integration services in commercial complexes, airports, hospitals, hotels, etc.

Comdev India: A designer and manufacturer of space hardware and develops space-qualified passive microwave equipment, specialised electronics and optical subsystems.

o9 Solutions Management India: Works with companies to create and manage unified plans across business functions such as sales and marketing, product portfolio and operations.
(Edited by Sanghamitra Mandal)