Despite the foundational and irreplaceable role of SMEs in our nation's economy, research has shown that 25% SMEs in India have been shutting shop due to financial woes. It would bode well for countless stakeholders of the economy, including SMEs themselves, to examine the cause of this phenomenon.
Between 1951 and 1991, Indian SMEs' health and well-being became a critical agenda of the country's planned development. It continues to play a central part in determining the optimal allocation of various national business assets.
Indeed, the focus on making the nation's business environment conducive for SMEs isn't unnatural given that SMEs play a pivotal role in our dynamic, yet vibrant and rapidly-expanding economy. Functioning as the foundations of industry, they are those enablers of trade and commerce that are poised to grow much faster than the industries in which they operate.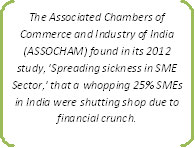 Although they do not have the coffers, networks or market-shares enjoyed by large corporations, SMEs determine our nation's economic and industrial well-being by creating employment opportunities, providing innovative and affordable goods and services, while enabling sustainable development.
A few facts would dispel any misgivings regarding the significance of SMEs to the economy. They contributed around 40% to aggregate exports, 75% to total employment and 25% of India's GDP between 2009 and 11.
Despite these heartening figures, industrial production grew marginally at a rate of 0.6% in February 2013 as a result of a lack of funding from banks, in particular, who are wary of creating more NPAs. To aid their situation, SMEs can eliminate the inefficiencies primarily arising from inadequate finances by opting for private equity.
As the first wave of private equity investments that were made pre-crash are liquidated, PE firms are expected to play an even more significant role in SME funding. This bodes well for SMEs since PE professionals bring not only capital, but wisdom into SME business, enabling it to thrive successfully.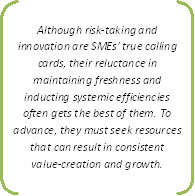 Apart from funds, the infusion of technology and innovation into business is a critical ingredient for effectiveness in SME business. Indeed, technology enables the creation of better processes, and infuses efficiency in areas such as labour and capital. MakeMyTrip, JustDial and Info Edge are instances of SMEs that have leveraged technology to transform a conventional business model, attain scale and subvert traditional competitors.
Despite this, several SMEs display reluctance towards embracing new technologies and methodologies, which are surefire means to gain a competitive edge in the market, as well as to smoothen business processes and operations. It is estimated that a mere 36% of India's SMEs have 'online enterprise solutions,' such as supply chain management and online customer service.
SMEs are able to lure their first customers by utilising promoters' networks, and this may provide them with enough momentum to take it through the initial growth stage. Yet, they often falter at the threshold of the next growth level, where it becomes critical to develop systems, processes and human resources that result in optimised bandwidth and potentially more business. Hiring the right talent and allowing them to flourish in their roles create what may be among the greatest assets SMEs can have.
This new scenario calls for new skill sets which may or may not be available in a promoter-driven SME if it is not inherent in the promoter, essentially the heart and soul of operations. If domain excellence and foresight are found lacking within the company, promoters must consider attracting collaborations and resources that translate into consistent value-creation and long-term operational efficiency. In the next feature, we discover how forging partnerships with PE firms not only allows SMEs to glean funds, but also intellectual support that can empower them to synthesise present and future success.
(Mohit Ralhan is Managing Partner, Indus Balaji Private Equity)