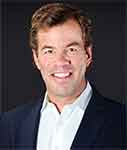 Ride-hailing firm Uber Technologies Inc. has appointed Brooks Entwistle as chief business officer for its Asia-Pacific business.
Entwistle joins Uber from Everstone Group, an India- and Southeast Asia-focussed private equity and real estate investment firm where he was CEO. Before joining Everstone, he was chairman of Goldman Sachs Southeast Asia.
Entwistle will report to David Richter, Uber's global head of business in San Francisco, User said in a statement.
"His appointment reinforces our commitment to writing a new chapter in the region, as we explore new opportunities to invest and grow our presence through strategic partnerships and investment opportunities," Richter said.
"After working in Asia for 20 years, I couldn't turn down the opportunity of shaping how the region moves over the next 20," said Entwistle
Entwistle, a mountaineer who has scaled Everest, previously had a 22-year-long stint at Goldman Sachs. He spent nearly five years in Mumbai as CEO and founder of Goldman Sachs India where he was responsible for leading and building the firm across divisions. An alumnus of Dartmouth College, he also holds an MBA from Harvard Business School.
As a key member of Uber's regional leadership team, Brooks will be responsible for business development, including autonomous vehicle alliances, in addition to corporate development and experiential marketing across the Asia Pacific region, Uber said.
Former Uber CEO Travis Kalanick earlier said autonomous vehicles, though still in their infancy, are critical to the company's long-term success.
However, the ride-services company is contesting a lawsuit by Alphabet Inc's self-driving car unit, Waymo, which accused its former engineer Anthony Levandowski of taking technical secrets from Waymo and using them to help Uber's self-driving car development.
Entwistle's appointment comes two months after Uber Asia Pacific business head Eric Alexander was fired for allegedly seeking the medical records of a Uber rape victim in New Delhi in 2014.
Uber has also been facing turbulence in its top ranks. In June, co-founder Kalanick stepped down as CEO of the cab-hailing firm in the face of mounting pressure from investors after a former US Attorney General ran an investigation into the company's culture and practices.
Questions have also emerged around the company's India plans with some media reports saying Uber will put local expansion on the back burner.
Uber has not made it clear whether India will be a focus area for Entwistle. However, looking at his past experience and given that the company is aggressively chasing India as a market, Entwistle's involvement in Uber's India business cannot be ruled out.
In February, Uber appointed Tata Sons executive Madhu Kannan as chief business officer for India and emerging markets. But, the firm didn't specify the countries that would fall under Kannan's purview.