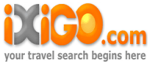 Travel search engine iXiGO has entered the market to raise a new round of funding. Sources have told VCCircle that the Gurgaon-based firm has started talks with venture capital players. Though the amount to be raised by the firm is not known, iXiGO plans to close the fund raising this year.
Aloke Bajpai, founder and CEO of iXiGO, confirmed this development. In 2008, the firm raised less than $1 million from BAF Spectrum, a Singapore-based seed-investment fund. Bajpai said that this round could be significantly larger. iXiGO, unlike other travel portals which offer deals, searches for travel inventory across multiple websites to help choose the best deals.
Bajpai says, iXiGO now gets around 1.5 million searches every month. Over the last year, the company has also diversified its offering from flights to areas like bus ticketing, railway booking, and hotels. "This year we also intend to get into tours and holiday packages," said Bajpai. He says, iXiGO's revenues have gone up by five times over the last 12 months for December this year.
iXiGO is also looking to become cash flow positive in the next few months. "Our costs are low since we have a team of only 20 people including the founders," said Bajpai. The company was founded by Bajpai with Rajnish Kumar and Dharmendra Yashovardhan in 2007.
Travel portals, once favourite among the venture capital investors, have failed to attract funding in the past two years. Since 2008, no new travel portal has been able to raise venture capital funding as investments have gone to the existing players in follow-on rounds. Several travel portals who have raised large rounds of venture funding include Cleartrip, Yatra, Travelguru (acquired by Travelocity) and Makemytrip. But with the revival in the tourism industry, some of these portals have now turned profitable and could also be looking at potential IPOs.