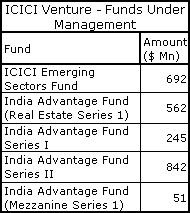 Amidst a series of departures of senior officials, India's leading private equity firm ICICI Venture Funds Management Co. Ltd is in the process of launching a relatively smaller Rs 1,000 crore real estate fund, according to two sources close to the development. The plan for the scaled down real estate fund comes at a time when the firm is facing hurdles in raising commitments from investors for some of the fund initiatives it announced earlier which included a $1-1.5 billion real estate fund.
The firm, which manages more than $2 billion currently, had been in the news with its long time MD and Chief Executive Renuka Ramnath quitting in April. Ramnath was replaced by banker Vishakha Mulye, who was till then an Executive Director of ICICI Lombard General Insurance Company.
The change at the top deck of ICICI Venture has reportedly raised concerns among many investors – mainly foreign – and that is considered one of the reasons for the firm's plans to launch a smaller fund.The fund plans to mobilise 90% of the target corpus from domestic investors, both institutional and high-networth individuals (HNIs), sources told VCCircle. Most PE firm have been raising capital abroad, while ICICI Venture is turning to domestic investors so that it can
use ICICI Bank's distribution muscle to reach out to the local investors.
This fund will also be an initiative from scratch by the new leadership. Sources said that a successful launch of the real estate fund will help infuse confidence in foreign investors after which it can go in for a larger general private equity fund, probably with a target corpus of $1 billion, sources added. The fund is about to be launched and will hit the roads in coming weeks.
ICICI Venture, a subsidiary of India's largest private sector bank ICICI Bank, announced several billion dollar private equity funds in the go-go years of 2007 and 2008. The firm was planning a real estate fund of $1-1.5 billion, an infrastructure fund of $1 billion and a private equity fund of $1.5-2 billion. These initiatives did not take off as expected in the wake of the global meltdown.
What also did not help is the change of guard at the firm. The Financial Express (FE) reported on July 10 that some of the investors who had committed to the funds of ICICI Venture were now pulling back their investments after the departure of Ramnath. Sources VCCircle spoke to  confirmed the development.
An email sent to ICICI Venture CEO Mulye for her reaction did not elicit response till this article went to press.
The commitments are being pulled out due to the 'key man' clause, under which LPs are allowed to pull back their investments if the key management of the general partner or private equity fund manager leave, FE report said. It had also said that a third of the commitments to $841-million India Advantage Fund Series 2 were under dispute. Meanwhile, sources told VCCircle that the earlier real estate fund had not received an enthusiastic response from the overseas investors.
ICICI Venture had a joint venture for real estate investments with US-based real estate developer and investor Tishman Speyer. The JV fell apart with ICICI Venture exiting TSI Venture India Pvt Ltd, which has investments of $700 million. Both Tishman Speyer and ICICI Venture announced their own independent realty funds after separation.
Talent Flight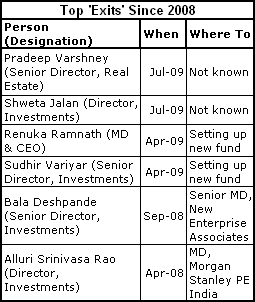 After Ramnath's departure, the firm has lost three more top executives. Sudhir Variyar, a senior director, quit to partner with Ramnath for a new fund, which is aiming to raise $500 million. Shweta Jalan, a director with the private equity investments team, also left the firm last month. Jalan, who had been with the firm since 2000, was involved in leveraged buy out transactions like VA Tech India Pvt Ltd, Infomedia India Ltd (now Infomedia18 Ltd) and ACE Refractories Ltd, and also played a key role in fundraising.
Pradeep Varshney, a senior director in the real estate team, has also quit, which apparently will affect the firm's plans to infuse operational expertise into the portfolio companies. The PE fund had put in place a project monitoring team from the industry, which was headed by Varshney. After Ramnath's departure there was confusion in positioning portfolio management with investment function, which ultimately led to his departure, sources said.
The real estate practice at ICICI Venture is headed by Rajeev Bakshi, a joint managing director, who was earlier heading Pepsi India. The team now has one senior director, Anandjit Sunderaj, who looks after investments.