Sameer Garg was a mere teenager when a debilitating spinal injury made a walking stick his companion. Not only did the disability take a toll on his personal life, but the Meerut lad also missed out on several lucrative job opportunities that were there for the taking. For a bright, full-of-life teenager, an incident like that can crush the spirit.
But not Garg, who went on to become an academician, corporate trainer and editor, attaining degrees and certifications like LLB, MBA in finance and UGC NET along the way. Clearly, his steely resolve didn't let the disability come in the way of academic and professional pursuits.
However, it wasn't smooth sailing always—at times, he was at the receiving end of discrimination because of his disability. "I have felt a lot of discrimination happens when someone sees a person with disability," Garg, who is now 42, recalls.
More importantly, it affected his social life given the idea of disabled-friendly infrastructure, whether it's a restaurant, theatre or department store, has still not dawned on India completely. That limits accessibility, movement and, ultimately, social interaction for thousands of people with moderate to severe disability levels.
Even in metros like Delhi and Mumbai, only a handful of places offer disabled-friendly infrastructure. And there is little, if any, information available on such places in a structured fashion. The result—families and friends have to either leave behind those with disability for the outing, or settle for something that accommodates them.
But when doers like Garg go through such unpleasant experiences, rest assured they will come up with a solution and not just accept it as fate. In 2014, Garg founded BillionAbles, a venture that, he says, aims to enhance accessibility for persons with disabilities. We believe it's more than that—it's an attempt at levelling the playing field so that this long-ignored segment can go out and have fun, just like the majority of the population.
The company was founded in September 2015 by Garg and Deepak Kumar, who oversees the technology side of things.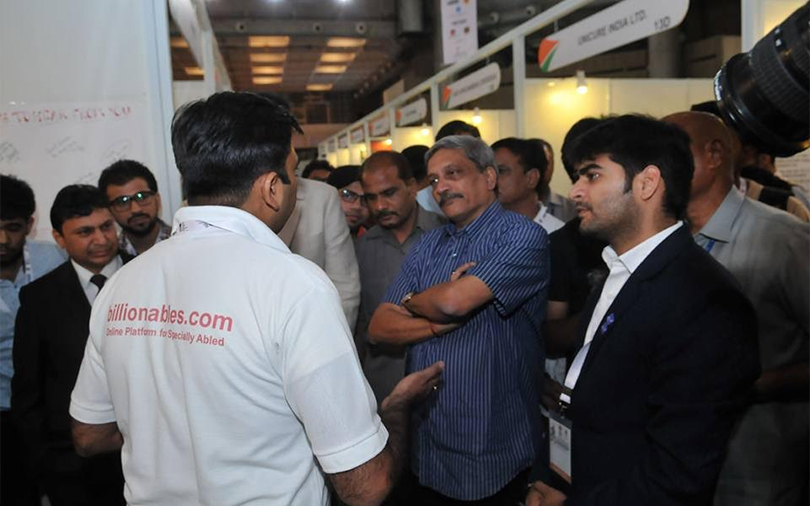 Disability no more
Billion Ables Services Pvt. Ltd is a crowdsourced online platform that provides information on disabled-friendly places and services across India, including restaurants, cafes, bars, theatres, malls, shops and general stores.
Users can select any locality on the map and select one or more from the following options: Wheelchair Accessible; Sign Board Available; Tactiles Available; Special Needs; Sign Language; Braille Accessible; Braille signage; Assistance available; Accessible For Blind; and Acid-attack Survivors. The web site throws up establishments that meet these criteria and users can click on the entry for more information.
The startup currently runs a web platform, but it will soon release an app on Google Play Store. Its user count currently stands at over 2,000. The platform has 500 places from Delhi-NCR, Goa and Rajasthan listed on it at the moment.
"Whenever a user visits any place, they can just take a photograph and/or video, write some details about the place and submit it on the platform," Garg explains. After verification, the place is added to the list.
The team has added some gamification components to ensure user acquisition and repeat usage. Once a user lists a place or adds a review, they get reward points redeemable at select merchant outlets in the form of a rebate.
The app, when it launches, will offer user-friendly features like increasing and decreasing the font size of the text. Those with colour blindness can change the app's contrast colour while the visually impaired can avail of text-to-speech and speech-to-text options.
Funding
The startup recently raised a seed round led by Pankaj Gupta, founding partner and chief executive of Gulf Islamic Investment, a UAE-based Shariah-compliant venture capital and private equity firm. A group of international institutional investors also wrote cheques.
The startup will use the funds to develop its app and for marketing purposes.
Business model, challenges
BillionAbles' model is similar to that of online search-listings provider Just Dial. It aims to monetise by charging merchants for priority listings once it has enough traction and places registered on its platform. If a merchant has opted for a subscription, his name will rank on top in the search results. For now, merchants are not charged anything while, for end-users, the service will always be free.
The startup aims to have 25,000 locations on the app in the first year and 1 lakh locations in the second year.
The reality that social initiatives, especially the ones for the disabled, receive little support in India is not lost on Garg. "The market for social opportunities is not clear, as there are not many companies. You get appreciation as its a social cause but nobody really wants to invest as they don't see it as a business model in India yet," he explains.
Besides, having no direct competition is also a challenge, he feels. "When there is no competition, it means there isn't validation of your idea, and it's difficult to get investors believe in it," Garg says.