Less focus on quality, lack of a unique value proposition and missteps on the marketing front led to the fall of Snapdeal, according to report by research and advisory firm RedSeer Consulting.
The market share of the e-commerce firm—which early this week pulled out from merger talks with bigger rival Flipkart after six months of intense negotiations—fell from about one-fourth in September 2015 to 4% in March 2017.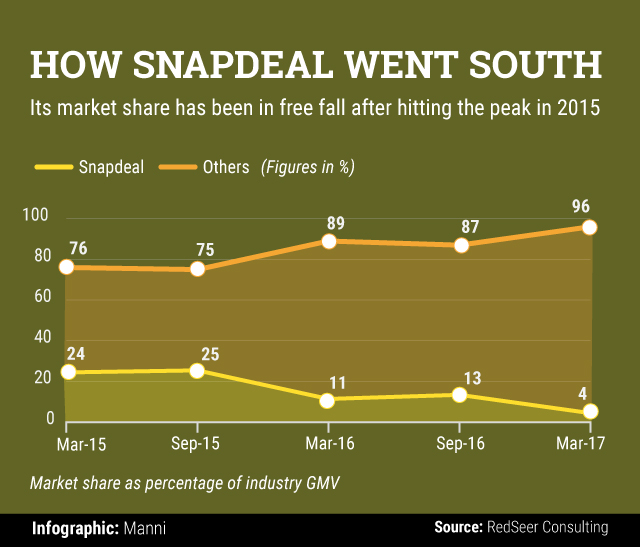 While its counterparts realised the market trends and focussed on growing categories such as mobiles, consumer electronics and fashion that dominate online retail, Snapdeal failed to meaningfully differentiate itself, the report said.
While Flipkart and Amazon have been aggressively working on winning the mobile category by inking exclusive smartphone launches, Snapdeal couldn't land any major partnerships. Its once-thriving consumer electronics business shrank with the arrival of US-based Amazon which promised faster delivery and better seller prices, according to RedSeer.
Snapdeal also couldn't leverage on the high-margin, fast-growing fashion segment as it couldn't offer the level of product assortment and quality offered by market leaders Flipkart (along with Myntra and Jabong) and Amazon.
The report also cited Snapdeal's numerous pivots as a major reason for its failures. The e-tailer operated on a pure-play marketplace model with no inventory until 2013 when Amazon entered the country, changing the market dynamics for domestic e-commerce players.
Snapdeal then moved to a managed or controlled marketplace model with own warehouses called SD+ centres to ensure some level of quality control. However, it never adopted a hybrid model that has been followed by Flipkart and Amazon with WS Retail or Cloudtail, respectively, which helped them gain control on quality, cost and consumer experience, the report noted.
"The marketplace model did not allow Snapdeal to have any sort of control over quality of products. This has brought down the trust of customers on the company," said Mrigank Gutgutia, engagement manager at RedSeer.
Come 2016, Snapdeal began to feel the heat of its messed-up strategies and heavy cash burn which forced the company to excessively focus on unit economics. This sudden shift in focus reduced its marketing spend and resultantly led to a flat growth, the report said.
Snapdeal's rapid fall from grace was completed with the end of its merger talks Flipkart as it decided to take a solo route by tweaking its business model, cutting costs and slashing headcount in a bid to revive its fortunes.
While the reasons, repercussions, and impact of the failed merger with Flipkart and Sanpdeal's proposed new version have been discussed in detail, it is clear that the e-tailer won't be competing with the likes of Flipkart or Amazon anymore.
"This will be a seller-centric marketplace similar to Alibaba-owned Taobao in China and eBay in the US. It will be much easier for sellers to sell. In the segments Snapdeal chooses to operate, it will be more of a local, asset-light e-commerce player. It will not be making fancy 'one-day or two-day delivery' promises. A lot of efficiencies will be built in," a person with direct knowledge of the company's plans had told VCCircle.
The Gurgaon-based company also witnessed a string of top-level exits on Tuesday after its much-anticipated merger deal with Flipkart fell through.
Snapdeal's vice president of product Pradeep Desai, vice president of engineering Viraj Chatterjee and head of IT Gaurav Gupta quit the firm, according to a report by news agency ANI. Digvijay Ghosh and Rahul Jain, business heads of FMCG and general merchandise divisions, respectively, had resigned the day before, the report added.
Besides, Snapdeal's pivot to the much-touted 'true marketplace' model may involve further downsizing of its operations and workforce. People familiar with the goings-on peg its final staff strength following expected layoffs anywhere between 200 and 600 people, down from 1,200 employees currently.
In February, the e-tailer had laid off 500-600 employees across the e-commerce marketplace and its subsidiaries, mobile wallet FreeCharge and logistics wing Vulcan Express.
A person close to the developments at the e-tailer previously told VCCircle that it is likely to see a lot more attrition following the collapse of the merger talks.
"People will quit because they were thinking they will get some retention bonus if the merger with Flipkart happens. Exits across levels have already been happening at Snapdeal," the person had said.
The collapse of the merger deal has also come as a blow to more than 25 institutional investors whose bet on the e-commerce firm turned sour. It is unclear if they will keep backing the firm that has been battling high cash burn, falling orders and nosediving valuation.