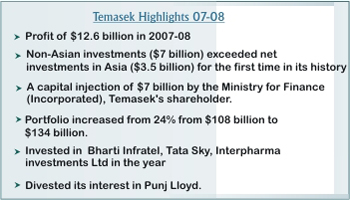 Is Temasek Holdings looking beyond Asia? If its asset allocation is any indication, it seems the Singapore government owned investment firm is biased towards more of non-Asian assets - at least for now. For the first time in Temasek's history, its net investments outside Asia ($7 billion) have exceeded that of Asia ($3.52 billion), the firm's annual financial review showed. In the preceding five years, Temasek had invested a net $18.34 billion in Asia and just under $705 million of net investments in non-Asian economies.
This could be indicating towards the fact that Temasek would be gradually looking at allocating its assets more in non- Asian countries than Asian countries. Among its significant non- Asian investments include U.S. investment bank Merrill Lynch where the Sovereign wealth fund has invested about $5 billion since December and has reportedly also got a nod to increase its stake from 9.4 percent to 14 percent. Temasek is also the biggest shareholder of London-based Standard Chartered Plc and Singapore's DBS Group Holdings Ltd.
In a transcript of Q&A with the media and the analysts, Michael Dee, Senior Managing Director, International said, "Last year, our ratio of investments in Asia to investments outside of Asia was approximately 2 to 1. I expect this statistic to be volatile over time, as we do not target that number from a management perspective. We want to be available and capable of executing high quality investments that we believe to have excellent value, no matter where they are in the world. If they happen to be outside of Asia one year, so be it. If not, we will invest where we see the best value."
Manish Kejriwal, Senior Managing Director, Investment, International & India, also added that in future, their ratio of portfolio allocation to the countries (Singapore, OECD countries and Asia ex-Japan) can change in future. Kejriwal said, "We thought it would be a third, a third, a third. Over time, as new opportunities come up in different parts of the globe, that might change. As of right now, we are quite satisfied with where that stands." Kejriwal further added that financial sector is important to them. He said, "In emerging markets like Asia, we see its growth as a proxy of economic growth, especially in China, India and Indonesia."
Its Indian investments during the year included Bharti Infratel (telecommunications – India), Tata Sky (media - India), Interpharma Investments Limited (life sciences - Asia). As part of its portfolio rebalancing, Temasek divested its interest in Punj Lloyd, an Indian company in the energy and infrastructure space.
Temasek Chairman S Dhanabalan noted that volatility remains high, with further contagion expected in the economies of the United States, Europe and Asia. He said: "We are concerned with the emerging risks of stagflation. Opportunities may be limited in such a scenario."
Temasek achieved a record profit of S$18 billion but it does not provide with any specific break up of the $18 billion. Temasek's portfolio grew to S$185 billion ($130.5 billion), an increase of 13% from S$164 billion ($115.7 billion) the previous year. On the back of a weaker US dollar, the value of
Temasek's portfolio grew 24% from $108 billion to $134 billion. Shareholder equity increased 26% to S$144 billion over the same period.
The increase in portfolio size was partly due to a new capital injection of S$10 billion ($7 billion)by the Minister for Finance (Incorporated), Temasek's shareholder, as part of its asset reallocation.
Due to sharp mark-to market corrections in the global markets Temasek also saw its wealth added falling to S$6 billion ($4.2 billion) below cost of capital hurdle for the first time in five years. Temasek explains that wealth added is what is their return relative to the cost of capital.