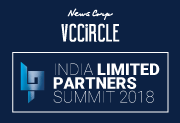 Planned exits from private equity investments in India are no longer a major challenge, besides investors are also getting more comfortable with large deals, said Blackstone India senior managing director and head of private equity, Amit Dixit.
While delivering the keynote address at the VCCircle India Limited Partners Summit 2018, in Mumbai on Tuesday, Dixit said 2017 was not only a difficult year to bring in new capital despite a soaring stock market, the earnings also did not show expected levels of growth.
"We are bullish on 2018 as an investment vintage than 2017," he said, adding that the Indian investment climate for limited partners has changed vis-a-vis a few years ago, when they would have viewed the local market as one of the worst to take the capital out from.
According to Dixit, while the largest chunk of capital gains in the past decade has come from sectors such as IT, financial services, industrials, consumer, and healthcare, from hereon, the PE industry will find large deal opportunities in pharma, auto exports and IT, besides stressed assets in the infrastructure sector.
"You have to be extremely focused on the right domain and the right sector. Between 2007 and 2015, you could have invested in the best construction company and still your return could have been compromised, while you could have invested in the worst IT company and done fine. Sector selection is extremely critical."
He said many corporates in India are under increased pressure from their lenders and shareholders to sell non-core assets.
Dixit said the Indian PE sector has been going through a rapid phase of transformation. "The teenage years are over and the market is more mature," he said, adding that there is "no free lunch", that is, investors need to bring in more "operational value rather than trying to buy at the lower end and selling at highs". Besides, he feels, the "rising tide will not lift all the boats".
The private equity market in India is estimated at $15-25 billion, with almost half the deals at over $100 million, compared to just a handful till 2012-13. Besides, almost 25% of deals are either a majority or controlling stake sale compared to only a handful prior to 2010.
"The reason behind control transactions is family succession issues. The new generation either do not want or are not capable (of running a business). PEs bring to table professional managers and professional owners, which the family businesses are happy with."
India saw $40 billion worth of exits in PE investments in the past five years. Blackstone's exit deals in 2017 were at $1 billion, Dixit said. Of the 36 initial public offerings in 2017, half were through PE exits.
Since its entry almost 13 years ago, Blackstone's $7.3 billion investments in India divides equally between its real estate and private equity funds. It has typically been investing in transactions of $100 million or more.
Some of its most successful investments in India includes SH Kelkar, Sonalika Tractors and Agile Electric. It has also sold several of its investments to peers such as Bain Capital and Baring Private Equity Asia.
In recent years, Blackstone has taken a series of initiatives to provide operational know-how to its investee companies – from hiring independent directors in India to recruiting management trainees for them. In 2015, it had appointed former Unilever Plc CEO Harish Manwani as its global executive advisor, in a bid to guide its portfolio companies.
Dixit said the firm has also strategically provided business to its portfolio companies, and wherever it could, doubled up as a customer for the services provided by the firm to better use the synergies.