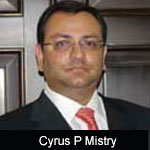 India's largest coffee producer and exporter Tata Global Beverages Ltd has appointed Tata Sons deputy chairman Cyrus P Mistry and Darius Pandole, partner with private equity firm New Silk Route, as its directors. The company has also appointed Harish Bhat as CEO & managing director to replace the existing CEO P T Siganporia, who will retire on June 30. Bhat joined the Tata Group as TAS probationer in 1987 and has worked with Tata Tea Ltd and Titan Industries Ltd.
The electrical and electronics engineer from BITS Pilani, who also went on to complete MBA from IIM Ahmedabad, was till recently COO of watches & accessories division of Titan Industries, a Tata Group firm. Titan generated revenues of around Rs 1,860 crore from watches and eyewear & accessories business in FY12. Tata Global Beverages closed FY12 with revenues of Rs 6,631 crore.
Early this year, Bhat had announced a sabbatical from work for nine months starting April to write a book on the Tata
Group. Darius Pandole comes in as an independent director on the board of Tata Global Beverages. Before joining New Silk Route Advisors, he had worked with Kraft General Foods in the US and IDFC PE. Upon his return from the US in1993, Pandole managed the operations of his family-owned soft drinks business, Duke and Sons Limited, which was a market leader in Western India.
Cyrus Mistry's induction into Tata Global Beverages board can be seen as a part of the process of bringing him on the board of all key companies of the multi-billion dollar Tata Group. Ratan Tata is currently the chairman of Tata Global Beverages. In November, 2011, Tata Sons, the holding company of Tata Group appointed Shapoorji Pallonji Group's Cyrus P Mistry as the successor to group chief Ratan Tata. Mistry is the younger son of Pallonji Mistry, the single largest shareholder in Tata Sons.
The appointments come within five months of the firm striking a deal with US-based Starbucks to form an equal equity joint venture for launching the iconic coffee chain in India.
This came a year after Starbucks signed a non-binding Memorandum of Understanding (MoU) with Tata Coffee, a listed subsidiary of Tata Global Beverages, for sourcing coffee and also for retail business in India. The MoU was to create avenues of collaboration between the two companies for sourcing and roasting green coffee beans in Tata Coffee's Coorg facility.
In the new structure, Tata Global Beverages formed the JV with Starbucks while Tata Coffee entered into separate agreements with Starbucks Coffee International, Inc., US, and Tata Starbucks Ltd, for roasting coffee produced in the company's estates using Starbucks' know-how and technology. Tata Cofee also entered into a packaging, sale and distribution pact with Starbucks Cafes, to be set up by Tata Starbucks Ltd in India.
Tata Global Beverages, the world's second largest tea company which was earlier known as Tata Tea Ltd, is engaged in processing, producing, marketing and distribution of tea products and employs over 3,000 people worldwide. Its brands include Tata Tea, Tetley, Himalayan natural mineral water, Good Earth and Eight O' clock coffee.
(Edited by Sanghamitra Mandal)