Mid-stage venture funding, which showed some promise of picking momentum in the beginning of the year after a major dip in October last year, registered its worst performance in July in the past two and a half years.
The further slowdown in mid-stage VC deals- Series B and C rounds- is particularly alarming as it means pain for fast growing startups to get cash infusion to scale up after initial funding.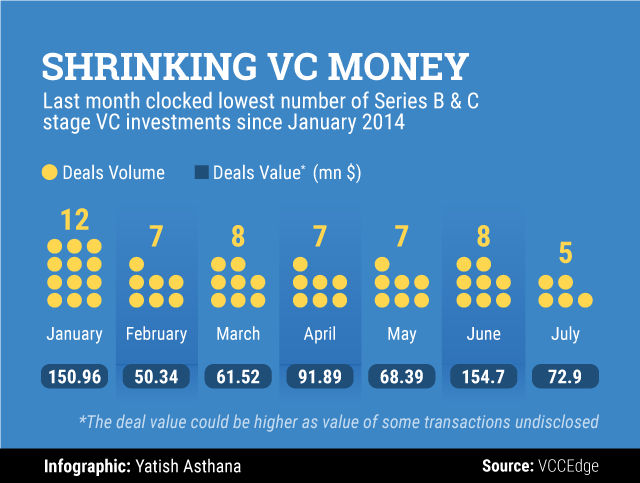 The month of July recorded just about half dozen deals at the mid-stage level of funding, according to VCCEdge, the data research platform of News Corp VCCircle. Of these, one was Series C while the remaining were Series B. The deal volume in July was the lowest in a month since January 2014, when just two deals were announced.
This means VC firms have raised the milestones before signing on the cheque for an already funded startup.
Sanjay Nath, co-founder and managing partner of Blume Ventures, a VC firm that is chasing deals in the seed to Series A stage, said that while he wouldn't read too much into month-on-month variations of mid-stage, investors are focusing on greater scrutiny on startups. They are looking at sustainable business models, cash flows, a path to profitability or sticky (and monetisable) user behaviour.
"However, do note most of the VCs have raised 2x the size of their earlier funds, so there is indeed capital - the key point is the bar for funding new deals has been set higher now," he said.
In terms of deal value, however, July still fares better than the three other months during the year. This was skewed upwards due to a funding received by self-drive car rental startup Zoomcar.