In the largest microfinance deal in the world, Hyderabad based SKS Microfinance has raised Rs 366 crore or $75 million from private equity investors. This is fourth round of fund raising by SKS. Sandstone Capital, an India focused hedge fund with $1 billion capital under management, has led the deal, while the other investors in this round include SVB India Capital and Kismet Capital.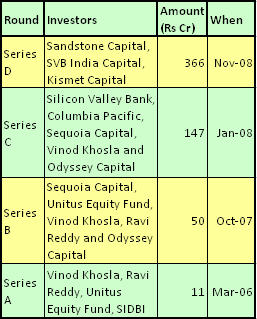 This is the largest investment in a micro finance institution anywhere in the world, said SKS Microfinance founder CEO Vikram Akula. Since October last year the MFI has raised Rs 563 crore in three rounds of funding.
"We are going to be using these funds to leverage access to commercial finance and scale of our outreach in next two years," said Akula. SKS currently has 1,400 branches with 12,000 employees, and Akula plans to double that in the next two years. He also said that microfinance remains largely unaffected from the global economic meltdown.
"We see that micro-enterprises of poor clients are largely de-coupled from what is going on in rest of the world," said Akula. "Investors are looking for safe investments, looking to go to quality, we hope the silver lining of global meltdown is more investors will put more money in hands of poor through microfinance," added Akula.
SKS has raised funds from Sequoia Capital, Vinod Khosla, Odyssey Capital, Silicon Valley Bank and others. Talking about the exit route to the investors, Akula said its likely to be through an IPO. But they have other options like mergers and acquisitions on the table. Also the investors are likely to get a return of 20%, he said.
SKS Microfinance was started in 1998 and now has more than 3.3 million clients across the country. It plans to reach 8 million clients till March 2011. SKS Microfinance claims it has the lowest interest rates offered by MFIs across the country, which range between 25-30%. SKS added 400,000 new clients last month and and is now looking to further expand. The total equity capital of the comapny is now $135 million, and with this investment capital adequacy ratio has gone up from 17% to 30%.