Singapore's GIC, one of the most active sovereign wealth funds in India, upped its exposure to private equity as an asset class besides bonds and emerging markets equities for the year ended March 31, 2014, as per its annual report.
As per the report, GIC cut its exposure to developed economy equities to 29 per cent, from 36 per cent during the same period.
Development market equities which used to be the single biggest class for GIC in FY13 fell below bonds last year. The sovereign fund also upped its exposure to inflation-linked bonds last year.
While real estate exposure dipped a bit, private equity exposure rose a tad from 8 per cent to 9 per cent.

In the geographical spread of GIC's investments, the sovereign fund seems to have bet on European recovery with Europe being the sole region where it has hiked its exposure last year.
The Americas region including the United States (34 per cent), Latin America (4 per cent) and others (4 per cent) accounted for 42 per cent of its portfolio in the year to March 2014, as against 44 per cent in FY13.
Asia, which was the second biggest region as of FY13 slipped to the third spot as GIC's exposure to the region fell from 28 per cent to 27 per cent. Europe in contrast rose from 25 per cent to 29 per cent of the total. Australasia also slipped from 3 per cent in FY13 to 2 per cent last year.
The decline if exposure to Asia was primarily due to drop in portfolio value in markets outside of Japan and North Asia (China, Hong Kong, Taiwan and South Korea), which would include markets like India and other Southeast Asian markets.
GIC said that it earned 4.1 per cent real rate of return over the last 20 years to March 31, 2014 as against 4 per cent the previous year. In USD nominal terms, it achieved an annualised return of 12.4 per cent, 7.0 per cent and 6.5 per cent for the 5-year, 10-year and 20-year time periods, respectively.
"As monetary policy normalises and interest rates rise, financial assets will see diminished returns. This is common to all major asset classes: public equities, private equity, bonds and real estate. Further, the current high prices in financial markets portend weaker future returns, including possibly negative returns at some point. The investment environment for the next 10 years will therefore be more challenging for global investors, including GIC," said Lim Siong Guan, president of GIC and Lim Chow Kiat, Group CIO of GIC, in a joint statement to the annual report.
Exposure to private equity
GIC's investment in the PE field are made both indirectly via funds as a limited partner or LP and directly into companies. GIC currently has over 100 active LP relationships with PE fund managers in all regions of the world and invests directly in companies, either alongside its fund managers or independently.
GIC's PE direct investments cut across multiple industry sectors, with a focus on financial services, business services, consumer, healthcare, technology/media/telecommunications (TMT) and natural resources.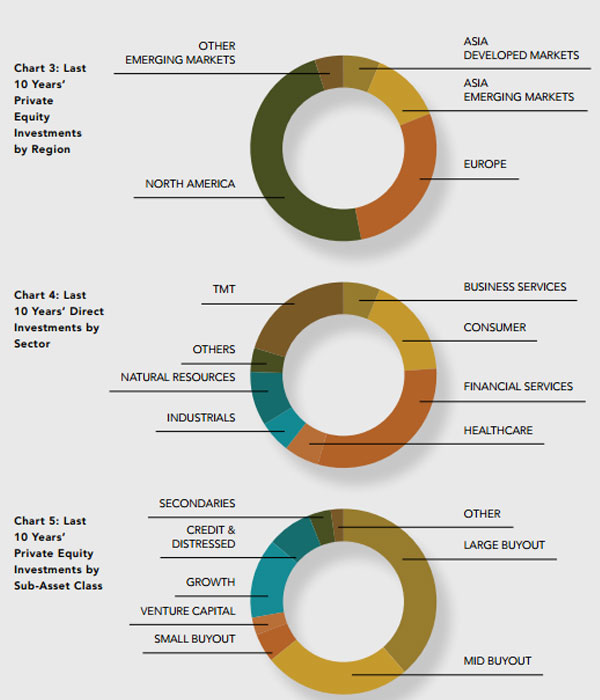 Its PE investments span a wide range of sub-asset classes within the industry. The largest proportion of the portfolio is invested in buyouts led by large buyout funds.
In India it has backed funds managed by Actis, Baring PE India and Lightspeed.
Indeed it has co-invested with Baring PE India in Marico and along with global buyout major Bain Capital in Genpact and Hero MotoCorp.
Last year it backed Kotak Mahindra Bank with around $239 million.
More recently it picked stake in gold loan firm Muthoot Finance. It also invested an undisclosed amount in India's largest e-commerce platform Flipkart.com.