Agri commodities-focused supply chain firm Shree Shubham Logistics Ltd and regional media house Amar Ujala Publications Ltd have received SEBI's approval to float their initial public offerings. The two join a queue of companies which are waiting in the wings to float their public issues having received SEBI's nod since January this year.
The list includes shoe maker and footwear retailer SSIPL Retail, payment solutions and products firm AGS Transact Technologies Ltd, Ashoka Buildcon, brokerage firm SMC Global, engineered systems and solutions manufacturer Uniparts India, power infrastructure service provider Power Mech Projects, Manpasand Beverages, Navkar Corporation and Precision Camshafts.
The sharp correction in the stock market over the last three months has made companies cautious on floating their IPOs even after getting a green signal from the capital markets regulator.
Here's a quick look at the proposed issues of Shree Shubham Logistics and Amar Ujala Publications.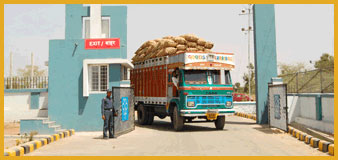 Its proposed public issue comprises fresh issue worth Rs 210 crore ($34 million) besides an offer for sale which would lead to part-exit for its private equity investor Tano Capital.
Shree Shubham is a subsidiary of Munot family controlled public listed firm Kalpataru Power Transmission Ltd.
The firm started operations in January 2007 and is engaged in post-harvest value chain for agri-commodities based on an integrated business model. Its activities include warehousing, procurement, primary processing, trading, collateral management, funding facilitation, funding, testing & certification and pest management in relation to agri-commodities.
It is essentially into midstream segment of agri value chain and wholesale distribution of agri-commodities.
It would use Rs 50 crore each for part financing the project cost of establishing new warehouses and further capitalisation of its NBFC unit besides Rs 70 crore for retiring debt.
For a more detailed look at the IPO click here.

Amar Ujala
The proposed public issue comprises fresh issue of equity shares to raise up to Rs 50 crore ($7.9 million), besides an offer for sale which would lead to part-exit for its existing public shareholder Pun Undertakings Network Pvt Ltd, besides shares on offer by its promoters.
Amar Ujala would look to join larger peers such as Blackstone-backed Jagran Prakashan (Dainik Jagran) and DB Corp (Dainik Bhaskar) among the listed stock of Hindi language newspapers.
It would be a rare print media company looking to go public given that media as a business is moving to the digital platform. However, the firm would be betting on the continuing demand for physical newspaper in the specific market segment it caters to. Despite spread of internet and mobiles much of north India, where Amar Ujala is present, still banks on traditional mode of media consumption.
For a more detailed look at the IPO here.