The ghost of Series-A crunch could be exorcised this year with half of India's top venture capital fund managers indicating that the first significant institutional round of funding for startups will dominate VC deal-making in the next 12 months, according to a VCCircle survey.
The survey captured responses from 10 venture capital investors who are active in both early and later stage venture funding to map out the activity in VC investment this year.
Here's some snapshots of how the VC dealmaking will unfold in 2014:
Fundraising remains tough
Fundraising for VCs remains tough with 40 per cent of those surveyed saying that they expect allocation by LPs towards venture capital to decrease. Around 30 per cent expect allocation to increase and a similar number expects them to remain stable. Only 10 per cent of those surveyed expect to launch a new fund in 2014.
However, this could be linked to the fact that most of the India focused venture capital investors raised capital during 2011-2012, and some like Mayfield and Inventus have just hit milestones for the new funds.
Only a few like IDG Ventures and Sequoia Capital India are currently on the road.
Competition to move up a notch but silver lining in investment appetite
Even as the community deals with high expectations of entrepreneurs, as high as 89 per cent of the VCs surveyed said that 2014-15 will be a good vintage year for venture capital as an asset class in India. This is good news as it shows the appetite for investments.
Why do VCs think so? "Businesses will start to scale faster and there are also more liquidity options in the market," said one VC. Another said that internet adoption and consumer spending are also likely to reach critical mass during the year.
On the flip side competition for deals is likely to intensify with close to two-thirds of those polled saying that they expect competition for attractive opportunities as an early stage investment to increase in 2014. Of the rest, 30 per cent expect competition to remain stable while 10 per cent expect competition to decrease.
Thirty per cent of the VCs surveyed expect to close more deals in 2014 compared with 2013 while 60 per cent expect a similar deal flow. Only 10 per cent expect the deals to come down.
Series A(ction), B(uoyant)…..
Series A funding has been on a slide in India, as it has been internationally. Indeed, in 2013 they accounted for just around one-third of all VC deals in the country, as per data collated by VCCEdge, the data research platform of VCCircle.
How will this turn this year? Every second VC fund manager who were surveyed said they expect Series-A will see most activity in
2014, followed by 30 per cent who said they expect more deals in the Series B stage and the remaining 20 per cent say seed stage investments would be buzzing the most.
With Indian market maturing with over a dozen startups commanding valuations of over $100 million, it is also expected to become more interesting for later stage venture capitalists.
"We think a number of companies in India are now scaling to a level where they become interesting to us," said an executive at a late stage venture capitalist from Silicon Valley.
E-commerce out, consumer internet in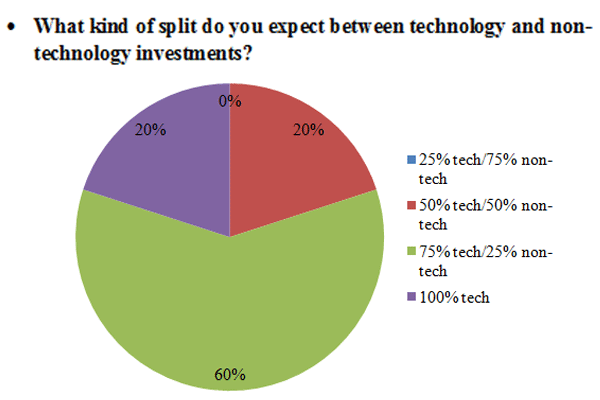 While non-tech venture investments became attractive during 2008-2010, most VCs are now heavily leaning towards technology. "We have reached a critical mass of users on mobile and online, which will accelerate tech investments," said a VC.
Twenty per cent of the VCs surveyed are expected to invest only in tech sector. Sixty per cent of those polled see a 75:25 split in favour of tech investments, while 20 per cent expect an even split between tech and non-tech investments.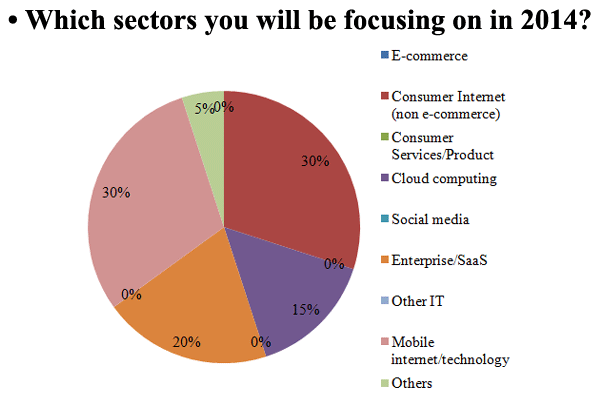 Within technology, consumer internet (non e-commerce) and mobile internet/technology will be the major focus areas for venture capital investors in 2014, with 30 per cent of VCs, each, voting for these categories as their top bets. This will be followed by companies in enterprise software/SaaS segment with 20 per cent and 15 per cent for cloud computing. The remaining 5 per cent voted for ITES and healthcare services.
Interestingly, once most favoured sector of e-commerce does not figure on any VCs list.
This is partly linked to the fact that almost half of the VCs polled said that e-commerce is the most overvalued sector right now. It was followed by consumer internet, healthcare services, IT and mobile technology with 14 per cent of the votes each in terms of high valuations.
Seventy per cent of the VCs surveyed said they expect valuations for Series-B/C/D rounds to be realistic while 20 per cent expect a decline. Only 10 per cent expect a rise in valuations. Reason for this could be investors becoming more specialised, as one VC said that "PE funds that do Series B/C/D are reducing in number."
This runs counter to the more hectic competition building up in the early stage investment bracket especially with the number of angel and seed funds at play.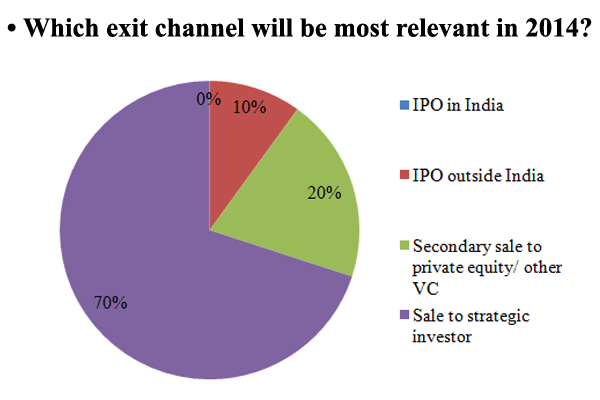 On the backdrop of redBus' acquisition by Naspers and Just Dial's blockbuster listing, which defied odds like the comatose primary market and the slur of poor valuation for new age tech companies in India, VCs also see a rise in exit valuations. As much as 87.5 of those surveyed indicated an increase in valuations over the next 12 months while just 12.5 per cent said they will decrease.
Also strategic exit is becoming increasingly promising to Indian VCs, with 70 per cent saying it will be most relevant channel in 2014. As Indian startups are increasingly making global products, global tech giants are taking notice. Last month, social networking giant Facebook acquired Bangalore-based Little Eye Labs, a company building performance analysis and monitoring tools for mobile app developers.
Exit through sale of stake to another investor is also going to be another route for VCs to harvest their old portfolio companies with 20 per cent of those polled indicating that as an exit route. Some (10 per cent) also said they are looking at IPOs for their portfolios outside India.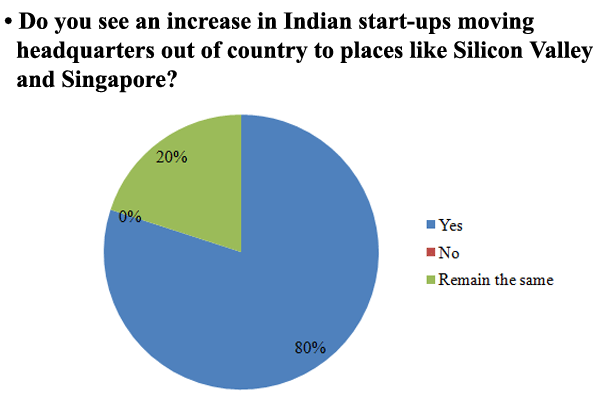 But India's uh-oh moment could be in the flight of startups. Indian startups moving their headquarters to global hubs like Silicon Valley and Singapore or even emerging locations like Chile will likely continue in 2014, according to the survey.
Eighty per cent of the VCs surveyed said there will be an increase in the number of Indian startups moving headquarters out of the country while 20 per cent the pace would remain the same.
(Edited by Joby Puthuparampil Johnson)