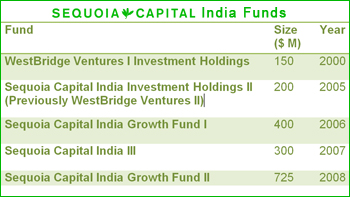 Sequoia Capital India has today announced the closing of its second growth equity fund dedicated to India - Sequoia Capital India Growth Fund II. The fund has raised $725 million in this fund, taking its total funds under management to $1.8 billion. This will take Sequoia closer to Ashish Dhawan's ChrysCapital ($2.25 billion) and ICICI Venture ($2.5 billion). With the closure of the latest fund, Abhay Pandey, who joined Sequoia Capital India in 2007 as an executive director, has been promoted to Managing Director.
Sequoia has so far raised five funds. It has a growth fund of about $400 million (Sequoia Capital India Growth Fund I) raised in 2006, and three venture capital fund totalling $600-650 million (see table). The new growth fund will seek to invest in late stage, pre-IPO and public market companies India
Sumir Chadha, Managing Director, Sequoia Capital India, said in a release, "The raise of Sequoia Capital India Growth Fund II demonstrates our belief in the strong growth story in India, and builds on the performance of our first growth fund. This fund allows us to offer the powerful Sequoia Capital platform of global networks and local knowledge to growth companies and help them expand into market leaders."
"We believe that India has a very high number of promising companies that are poised to take their businesses to the next level and we are committed to investing and partnering with these firms to help them achieve their goals," said Sandeep Singhal, Managing Director, Sequoia Capital India.
From its first Growth Fund of $400 million, Sequoia has invested in companies like Café Coffee Day, hydropower firm Coastal Projects, menswear apparel firm Cotton County, institutional brokerage firm Edelweiss Capital, luxury brand operator Genesis Colours, contract research company GVK Bio, telecom operator Idea Cellular, and microfinance lender SKS Microfinance.
Sequoia Capital India has invested in more than 50 companies which include Applabs, Bharti Telesoft, Dr Lal Pathlabs, Firstsource, GlobalLogic, Indecomm Global and marketRx. These investments span a broad range of sectors focused on high growth companies and management teams with a strong potential to succeed.
Sequoia's Managing Directors include KP Balaraj, Sumir Chadha, Surendra Jain, SK Jain, Abhay Pandey and Sandeep Singhal. The operating partners are Naresh Malhotra and Mohit Bhatnagar.
WestBridge Capital Partners, which named as Sequoia Capital India after its merger with Silicon Valley based Sequioa, launched its $150 million first fund in 2000. Some its first investments were Applabs, Bharti Telesoft, ICICI OneSource (Firstsource Solutions), MarketRx, Edelweiss , Shaadi, and Times Internet, among others. Sequoia and WestBridge had joined hands in their making two co-investments, Bharti Telesoft and Mauj.