S&P BSE Sensex, the 30-stock benchmark index, closed at 20,882.89 on Friday, just marginally short of 21,004, the highest ever level at the end of a trading session it hit on November 5, 2010, while beating the closing high of 20,873.33 on January 8, 2008, at the peak of the bull-run in January 2008. It is now just 1.5 per cent shy of its highest intra-day level of 21,206.77 that it hit on January 10, 2008.
Much has changed in the Indian economy since then, despite the so called policy paralysis from a governance standpoint.
From the perspective of the market itself, even as the benchmark index is now hovering around the same level, the last six years have brought out many changes. The numerous high and low tides for valuations for different sectors has changed the pecking order of India's most valued firms as also the heavy weights who dictate the direction of the benchmark index and more.
Here's a quick look at what all has changed as per hard numbers.
Sensex price-earnings ratio
The froth in stock valuations was visible much before the markets tanked with the weight of sub-prime crises in January 2008. The average monthly price-to-earnings ratio (or P/E ratio) of the 30-stocks in the index hit a high of almost 27 in December 2007. This more than halved to just over 12 a year later, in the blood bath that followed the collapse of Lehman Brothers.
As investors realised they have pulled the market to the over-sold region, valuations puffed up again and within two years the P/E ratio galloped back to around 24 in October 2010. Volatility in the market stabilised and the indices settled to a more modest level a year later and as the corporate earnings played catch up, despite the challenges from a governance deficit, the ratio is now at a level which many investors may consider as reasonable.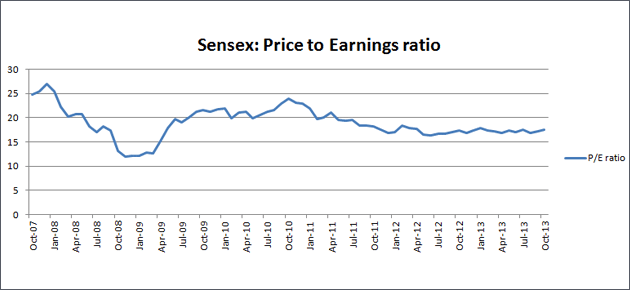 Sensex price-book value ratio
The valuations from a book value perspective (if you do value the numbers in the books i.e.), is now most attractive since March 2009, when the stock markets bottomed out.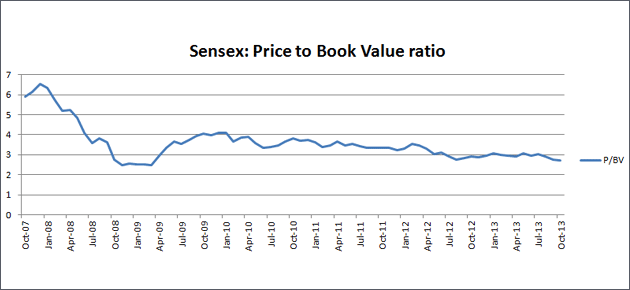 This is for those long term investors who prefer the old fashioned investment style and draw comfort from the dividend income from the stocks as a metric to choose to enter or wait on the sidelines.