Finance minister Arun Jaitley clearly had the rural economy in his focus, left some money in the hands of small taxpayer but stole lot of retirement savings while promising to spend more on roads and railways but disappointed corporate India at large in his third Union Budget on Monday.
Jaitley sought to drive the message that the government's agenda for the next year is to 'Transform India' and counted nine pillars to support the plan.
These straddled, agriculture and farmers' welfare with a focus on doubling farmers' income in five years, emphasis on rural employment and infrastructure, infrastructure investment and fiscal discipline among others.
Crucially, the finance minister stuck to the aggressive fiscal stability path sketched in the past to achieve a target of 3.5 per cent fiscal deficit to GDP ratio for 2016-17. In the process, he struck the right cords in maintaining the credibility of the government's own targets related to macro-economic parameters most closely watched by economists and global agencies.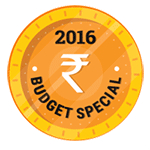 But he also passed on the chance to relax the target, as many anticipated, to cure the economy's several pressing pain points such as solving the bad loans of public sector banks. Indeed, at Rs 25,000 crore, the budgeted allocation for bank recapitalisation is seen as too low for fixing a key problem in the economy and certainly for the capital markets today.
With higher securities transaction tax (STT) on options premium and imposition of a dividend distribution tax at the hands of those earning it beyond a threshold, he also had some negative surprises for the stock markets.
The benchmark indices—Sensex and Nifty—fell over 2 per cent as he neared the end of his Budget speech but recovered later only to close the day down some 0.6 per cent.
The finance minister also disappointed big business who expected to see Jaitley snip corporate tax rate. The finance minister in his last Budget had said he plans to cut corporate tax rate from 30 per cent to 25 per cent gradually starting 2016-17, while phasing out and rationalising incentives and exemptions.
However, he implemented this only for small firms with turnover under Rs 5 crore, by trimming the tax they pay to 29 per cent (plus surcharge and cess). He also cut the tax rate for domestic manufacturers incorporated from March 1, 2016, to 25 per cent, provided they don't claim other incentives.
On the flip side, he sought to do more for the rural economy possibly keeping in mind the voters in nine states and one union territory that goes to the polls within the next 15 months. West Bengal, Punjab, Tamil Nadu, Uttar Pradesh and Uttarakhand that cover vast swathes of agrarian economy are to elect new state governments before mid 2017.
The Budget has allocated as much as Rs 87,765 crore for rural development as a whole including roads and irrigation projects among other planned expenditure.
This could be seen as mid-course correction by the Narendra Modi-led BJP government that faced an embarrassing defeat in state elections in Bihar in November last.
In the process, BJP's second full term Budget reads more like a 'Congress Budget' and unlike its perception of being seen as business friendly political party.

Jaitley also harped on several pet projects of national opposition party Congress. He raised the budgeted allocation for MGNREGA, a rural employment guarantee scheme championed by the previous Congress government and severely criticised by BJP when it was in the opposition. The government's allocation for MGNREGA for the coming fiscal has been raised by 11 per cent to the highest ever level of Rs 38,500 crore.
In another measure, the finance minster also gave importance to the unique national identity card or 'Aadhaar' programme started by Congress when it was in power and ridiculed by BJP strongly to the extent of calling it a 'fraud'.
Jaitley said the government will introduce a bill for Targeted Delivery of Financial and Other Subsidies, Benefits and Services by using the Aadhaar framework.
"The bill will be introduced in the current Budget session of the Parliament. The Aadhar number or authentication shall not, however, confer any right of citizenship or domicile. A social security platform will be developed using Aadhaar to accurately target beneficiaries. This will be a transformative piece of legislation which will benefit the poor and the vulnerable," he said.
The finance minister also talked about ensuring that all government benefits are conferred upon persons who deserve it, by giving a statutory backing to the Aadhaar platform.
All in all, the finance minister has managed to stick to the fiscal stability track but has eschewed taking key decisions that were needed to set the economy on a faster growth path. The Budget looks unlikely to set India on a transformative path but could provide a ground level feel good factor for BJP to do better in upcoming state elections.