Ranbaxy Group's recently floated asset management arm Religare Aegon has agreed to acquire Lotus India Asset Management Company, the company said in a communique to the stock exchanges. The deal size is not mentioned. However, The Economic Times on Tuesday morning reported that Religare might buy Lotus for a sum under Rs 100 crore. The deal is subject to regulatory approvals. Religare has a presence in the AMC business through it's equal joint venture with Dutch financial group Aegon.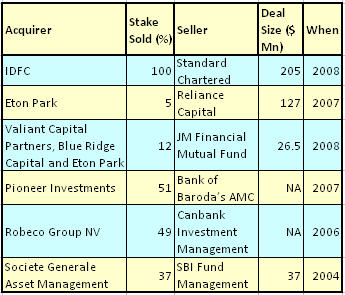 (For the past mutual funds deals, see table.)
Lotus India, in which Singapore's sovereign wealth fund Temasek also held a stake, has seen its assets under management fall by nearly a third as many investors pulled out from the mutual fund during the recent stock market crash that ensued the global credit crunch. Another promoter of Lotus India is Sabre Capital Worldwide, a company promoted by former Standard Chartered CEO Rana Talwar. Lotus India was also in talks with UK-based financial services group Olivet, but the UK firm backed out due to worsening economic conditions.
In October, Lotus India saw its average assets under management fall by 31% from Rs 7,937 crore at the end of September to Rs 5,457.7 crore. Lotus India has around 100 funds, of which 90% are invested in fixed income. Interestingly, the firm's CEO Ajay Bagga said in an in September that Lotus India plans to triple its assets to $6 billion in two years.
The impact of global economic crisis and the consequent stock market meltdown can be clearly seen from this distress sale of by Lotus India. Several other mutual funds have also reported a steep fall in AUMs. In recent data released by industry body AMFI shows that Average AUM of 21 out of the 38 fund houses in the country has dropped by nearly 19%. The mutual fund industry has been facing a lot redemption pressures.
In an attempt to ease the pressures on funds, RBI last month decided to hold an additional 14-day money auction to help banks meet the cash requirements of mutual funds that are facing higher redemption's from investors. Also a delegation of officials from leading mutual fund houses is to meet finance minister P Chidambaram today to seek more steps to ease the pressure.
There have been quite a few mutual funds deals in past one year in India. In March, Standard Chartered sold its Indian asset management business to Infrastructure Development Finance Co for $205 million, valuing the firm at about 6% of its assets under management. In December last year, Reliance Capital sold about 5% of its fund unit for Rs 500 crore, valuing India's largest fund firm at 13% of total assets.
JM Financial Mutual Fund, the asset management arm of Nimesh Kampani-promoted JM Financial, sold 12% stake to three hedge fund investors for $26.5 million in July this year.
In October 2007, Pioneer Investments picked up a 51% stake in Bank of Baroda's Asset Mangement company. In 2006, Canara Bank sold 49% stake in its asset management subsidiary Canbank Investment Management Services to the Netherlands-based Robeco Group NV. Robeco is part of Rabobank. In 2004, SBI divested 37% its mutual fund arm to Societe Generale.