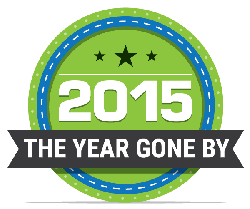 The Indian economy maybe trotting its way to recovery but private equity and venture capital investments related to the country have galloped to a record high this year.
PE and VC investors, spurred by a change in the political climate and hopeful of reforms, have struck more deals than ever before and pumped in $19.7 billion so far this year, according to provisional data from VCCEdge, the data research platform of VCCircle. Deal value last came close to this number in 2007 when it crossed $18 billion for the first time.
The number of deals spiked, led by VC transactions and angel investments. A record 1,283 deals have been struck so far this year, a significant jump from the 891 deals registered last year.
Total investment in 2014 was $12.4 billion, a mark that was crossed in the first nine months of this year.
In yet another record of sorts, VC funding showed a marked upswing during the year as investors -- disappointed with returns on PE deals and lack of exits in the past -- switched preferences. During the calendar year, VCs' renewed interest saw investments more than double as compared with 2014. The VC contribution to the overall pie shot up to 26.9 per cent so far this year, delivering the highest investments till date. In comparison, VC contribution was 19.3 per cent in 2014 and 9 per cent in 2010.
In value terms, VC funding this year more than doubled to $5.3 billion from $2.4 billion last year. The number of VC deals jumped to 446 so far this year from 311 in 2014.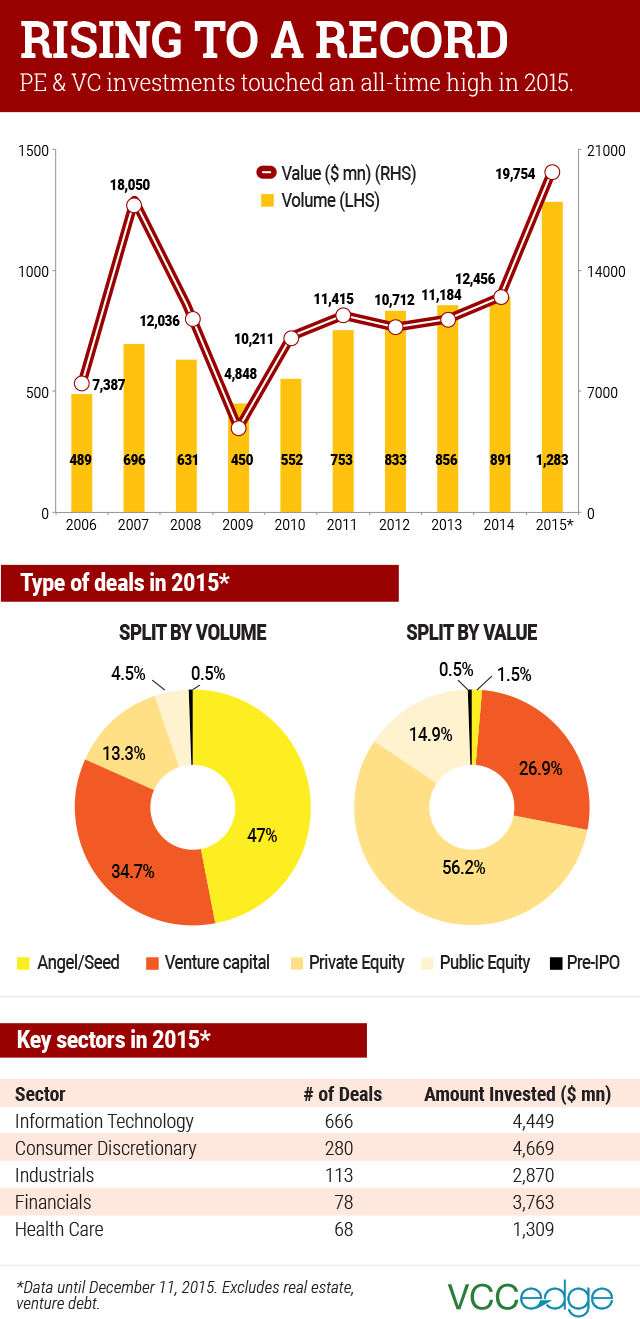 In contrast, PE funding lost some ground as its contribution to the overall pie slipped to 56 per cent during the year from 62 per cent last year. In value terms though, PE investment this year rose to $11.1 billion from $7.7 billion. The number of deals increased to 170 from 167 last year.
Public equity deals recorded a significant jump, from $1.9 billion in 2014 to $2.9 billion in 2015 year to date. In the overall pie, though, it has lost ground on a consistent basis since 2011 when its contribution was 35.9 per cent, to 14.8 per cent now.
Big-ticket deals ($100 million and above) constituted 65 per cent of the total PE capital invested this year across 50 transactions. In the biggest deal this year, Centerbridge Partners acquired Germany-based Senvion SE in an all-cash deal of $1.16 billion from Suzlon Energy Ltd.
While investments remained buoyant, PE exits slowed in 2015. While exit activity hit an all-time high in the first half of this year, prolonged slowdown and a weakness in secondary market slowed the process in the corresponding quarters.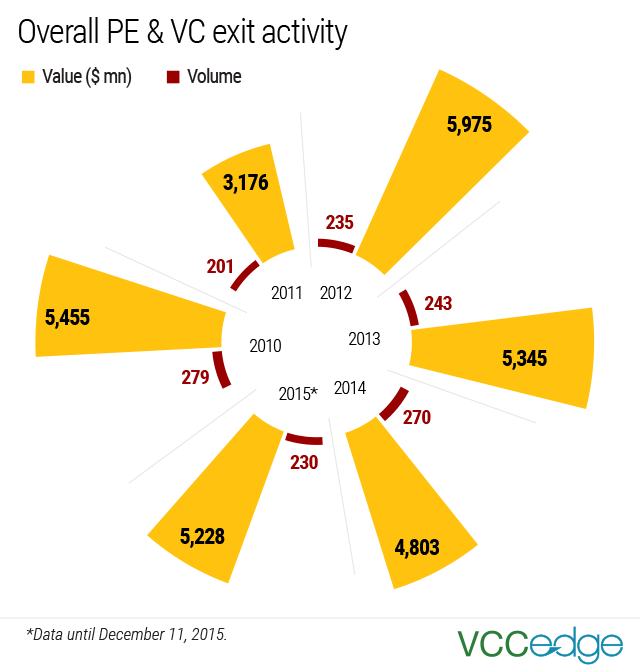 Exit deal value rose only 8.8 per cent this year to $5.2 billion from $4.8 billion last year. The number of exit deals fell to 230 from 270. Among the top five exits, Baring Asia sold its investment in Lafarge India via the buyback route in a deal valued at $304 million.