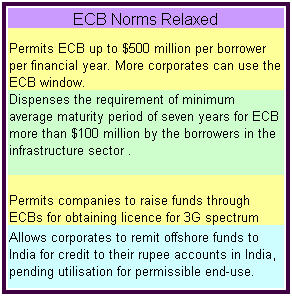 In an attempt to infuse foreign capital inflow in the country and help corporates raise funds for projects, the government and RBI have relaxed the ECB norms or the norms on overseas borrowing.
According to the new rules notified by the RBI late on Wednesday, from now on, ECBs up to $500 million per borrower per financial year would be permitted for rupee expenditure or foreign currency expenditure for permissible end-uses under the automatic route. The norm of a minimum average maturity period of seven years for ECBs of more than $100 million for rupee capital expenditure by borrowers in the infrastructure sector has been dispensed with.
However, owing to the tight liquidity situation in the international markets, RBI has raised the ceiling of interest rates at which firms can borrow funds from abroad.
Further, in an attempt to provide a boost to the telecom sector, payment for obtaining license/permit for 3G Spectrum will be considered an eligible end - use for the purpose of ECB.
Till present, ECB proceeds were required to be parked overseas until actual expenditure takes place. Now, companies can either keep these funds offshore or keep it with the overseas branches or subsidiaries of Indian banks abroad or to remit these funds to India for credit to their rupee accounts with banks in India until it is used.
However, the norms clearly specify that these rupee funds will not be permitted to be used for investment in capital markets, real estate or for inter-corporate lending.
Other earlier restrictions including the $500-million limit per company per financial year under the automatic route as well as conditions relating to eligible borrower, recognised lender, end-use, average maturity period, prepayment, refinancing of existing ECB and reporting arrangements remain unchanged.
It was only recently that the government widened the ECB window for infrastructure companies, allowing them to bring in $500m to meet rupee expenditure as against $100m previously. Also, the government revised the scope of infrastructure to include sectors like manufacturing, construction and mining in it.
These measures taken by the government will help corporates raise funds from the overseas market in wake of a global credit crunch and plummeting stock markets. It will encourage foreign exchange debt into India, as equity investing both by ways of private equity and tapping the capital markets hit a snag. Meanwhile, the RBI may further relax its monetary stance on Friday , when it undertakes a mid-year review of its annual policy.