A Reserve Bank of India-appointed panel, headed by PJ Nayak—former head of Axis Bank and Morgan Stanley India—has recommended that private equity firms, including sovereign wealth funds, should be allowed to acquire as much as 40 per cent equity stake in banks identified as distressed by the central bank. 
The recommendations, if implemented, would help banks which are in dire need of capital. Due to increasing bad loans, the banks need more capital to set aside as provisions, in addition to the higher capital requirements under advanced Basel-III norms. 
Rising bad loans is a concern for the banking industry, particularly for state-run lenders. As of December 31, 2013, 40 listed Indian lenders had gross non-performing assets of Rs 2.43 trillion, of which nearly Rs 2.19 trillion were with the state-run lenders. 
While criticising the way in which state-controlled banks are being run, the committee said in a 117-page report that the government should bring down its holding in state-owned banks to below 50 per cent to enable a level-playing field for public sector banks.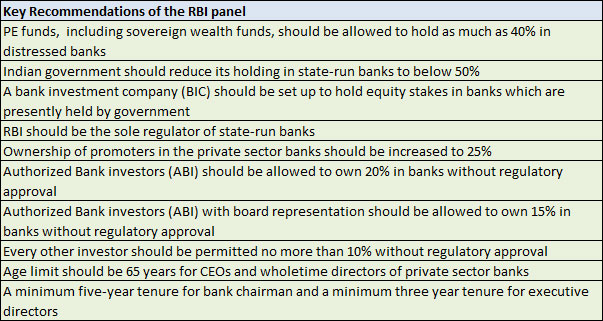 The banks have lost significant market share and their asset quality is "much weaker, in some cases worsening to grave proportions," according to the report. "The central government is a good example of a bank shareholder that has suffered deeply negative returns over decades…" it added. 
In the report, the panel suggested that the central bank should be the sole regulator for the state-banks and a bank investment company (BIC) should be set up to hold equity stakes in banks which are presently held by government. Public sector banks command 70 per cent of the market share in the banking industry.
The committee has also suggested to increase ownership of promoters in private sector banks to 25 per cent. Currently, private sector banks' promoters are required to reduce their holding to 15 per cent within 12 years of a bank starting its operations. Private lenders like YES Bank and Kotak Mahindra Bank are led by promoter CEOs.  
Further, it said that the RBI should assign a specific category of investors in banks known as authorised bank investors (ABI) that should be permitted to own as much as 20 per cent in banks without regulatory approval. Such investors would include funds with diversified investors. 
"Every other investor should be permitted no more than 10% without regulatory approval," the panel said. At present, a single investor can own only 5 per cent stake in a bank without regulatory approval.
Also, the committee recommended a minimum five-year tenure for bank chairmen and a minimum three year tenure for executive directors. RBI has invited comments on the panel's recommendations by June 12. 
(Edited by Joby Puthuparampil Johnson)