The Reserve Bank of India (RBI) said in its annual report that the drop in corporate investment is expected to be arrested in the ongoing fiscal 2014-15, given the rising business confidence, and based on forward looking surveys and economic indicators.
For the ongoing fiscal, companies have envisaged a capital expenditure plan of Rs 1.2 trillion, in order to improve the level of aggregate capital expenditure in 2014-15 compared with that of 2013-14, according to RBI's estimates.
The central bank has also said outlook is improving for Indian economy, which is expected to grow at 5.5 per cent in the fiscal year ending March 31, 2015  against 4.7 per cent last year.
"The economy is poised to make a shift to a higher growth trajectory," the RBI said in its report. However, monetary tightening in the US could hurt emerging markets.
Also, RBI is concerned about rising inflation, which has been the focus of its monetary policy, but is hopeful to achieve its near-term inflation target of 8 per cent by January 2015 and 6 per cent by January 2016.
"Though the balance of risks around the medium-term inflation path, and especially the target of 6 per cent by January 2016 are still to the upside, RBI remains committed to supporting the disinflationary process," said the report.
The central bank also does not see any adverse impact of deficient monsoon on growth, inflation, fiscal and trade deficits than earlier expected.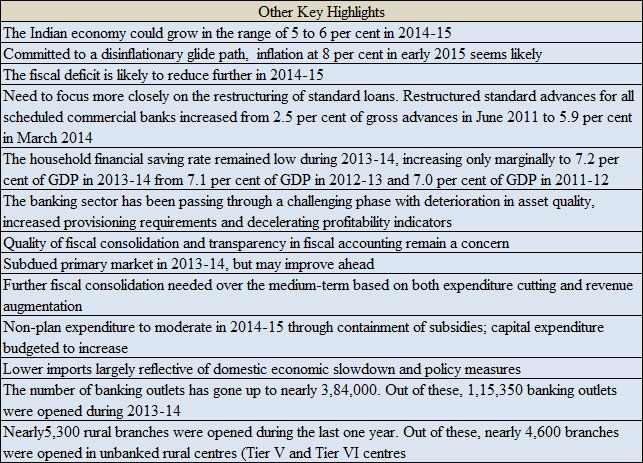 On the fiscal front, while it believes that fiscal deficit is likely to reduce further in 2014-15, the Current Account Deficit (CAD) is likely to widen from the levels in 2013-14, but is expected to remain within the sustainable level.
"As such, the risks associated with twin deficit risks are expected to stay moderate," said RBI's report.
Meanwhile, the bank said that its balance sheet size rose by nearly 10 per cent to Rs 26,24,400 crore in fiscal ended on June 30 against Rs 23,90,700 crore in the previous fiscal, helped by a 15 per cent increase in foreign currency assets. The central bank follows a July-June fiscal calendar.
Also, RBI has transferred its entire surplus of Rs 52,679 crore to the government after a committee suggested that it has enough contingency reserves.
(Edited by Joby Puthuparampil Johnson)