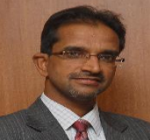 In yet another senior-level exit, Ramu Kennedy, principal at ICICI Venture Funds Management Company Limited, has quit the firm to join G Sreenivasa Rao-led e2E group as co-founder and group CFO. He will also be spearheading the business of one of its subsidiary companies -- e2E Investment Advisors Pvt Ltd as MD & CEO.
VCCircle has learnt that Kennedy will continue at ICICI Venture till January 31, 2010. He will join the e2E Group soon after that and will be based out of Bangalore. Kennedy describes his new role at e2E Group "as a start of a second life."
e2E is an early stage business venture, which offers consulting and advisory services, education & training, facilities management, investment advisory, operations & maintenance, and wireless & network solutions to its clients across railway and non-railway sectors, energy and hospitality.
It targets a revenue of Rs 500 crore ($100 million) by 2013-14 with around 30 entrepreneurs in its fold by March 2011.
Kennedy has over 19 years of experience in corporate banking, investment banking, structured finance and private equity. He joined ICICI Venture in 2008 and was part of the business development team. He was focused on identifying, originating and developing potential investment opportunities in South India for all investment practices at the firm.
Prior to joining ICICI Venture, Kennedy was with Standard Chartered Bank where he was director - Origination and Client Coverage, Wholesale Banking. He has previously worked with ICICI Bank, TAIB Bank, Global Trade Finance and AF Ferguson. He has expertise in providing structured cross-border funding solutions to Indian corporates.