A Krishnakumar, who is currently president and head of Philips Healthcare Business in India, has been appointed as the managing director and CEO of Philips Electronics India Ltd with effect from December 2013, the company said in a release. Krishnakumar will continue to head the healthcare business until his successor has been appointed.
He succeeds Rajeev Chopra, who has been elevated to head the global business of the Philips Consumer Luminaire Business Group.
Prior Chopra, who joined Philips in April 2003, has over 20 years of experience. Prior to this, he has worked with Cisco Systems, Microsoft and Hewlett-Packard Asia Pacific, Singapore. An IIT Kanpur alumnus, he also holds an MBA from Tulane University - A.B. Freeman School of Business. He became the chief of Indian unit of Philips in January 2011.
He had taken over from Murali Sivaraman, the previous chief of India unit, who was also elevated to a global role as head of the domestic appliances business.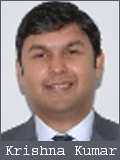 Krishnakumar joined Philips in June 2010 and his experience spans across India, USA, Japan and China in leadership positions at Coopers & Lybrand Consulting, HSBC
Investment Banking, Microland and more recently at Johnson & Johnson's Healthcare division. He has double masters from IIM Ahmedabad and Kellogg School of Management.
Philips Electronics India Ltd operates as a subsidiary of the Netherlands-headquartered Royal Philips Electronics which has presence in consumer electronics, home appliances, healthcare devices and lighting business.
In India, Philips has a large presence in the small kitchen appliances business and is the top player in the lighting market. It also has a strong share in the healthcare devices segment. In the consumer electronics sphere it has a small presence through a brand licensing arrangement with local partner Videocon.