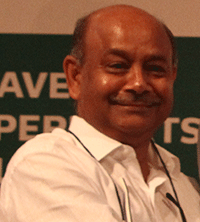 Ace stock market investor Radhakishan Damani, who is also the promoter of Avenue Supermarts Ltd has sold a 1% stake in company which manages hypermarket chain D-Mart.
The stake sale is part of the company's plans to meet Securities and Exchange Board of India (SEBI) norms which stipulate that promoters and promoter groups can have a maximum of 75% stake in listed entities.
Damani sold a little more than 6.24 million Avenue Supermart shares via multiple block deals, the company informed stock exchanges.
The deals took place between 21 May and 24 May, with the bulk of the shares - 4.73 million - being sold on Thursday at Rs 1,360.20 apiece.
The stake sale, which took place at an average price of Rs 1,360 apiece, would fetch Damani about Rs 848.75 crore (around $125 million) before accounting for transactions costs and statutory levies including the 10% long-term capital gains tax that is now applicable.
As of March 31 2018, the promoter and promoter group held 82.2% stake in Avenue Supermarts. Damani, who held 39.41% in his personal capacity at the end of March 2018, will now see his stake decline to 38.41% after Thursday's transaction.
The buyer(s) name was not immediately known. Axis Capital was the sole adviser to D-Mart for the transaction.
Shares of Avenue Supermarts advanced 3.34% on the BSE to close at Rs 1,404.20 apiece before rising to an intraday high of Rs 1,447.65. The stock rose as much as 6.53% intraday.
D-Mart went public through a mega initial public offering (IPO) in March last year. The company's share sale was subscribed 105 times in what was among the most successful IPOs in recent times.
The IPO comprised a fresh issue of shares worth Rs 1,870 crore ($280 million). Avenue Supermarts used 20% of the net proceeds to repay debt and a part of it to open new stores.
Shares of Avenue Supermarts more than doubled on listing day, making it the best stock market debut in almost a decade.