Property demand across top eight Indian cities has continued its downhill ride with sales declining 4 per cent in the first quarter of FY16 over Q1 last year and by a marginal 1 per cent quarter-on-quarter, according to real estate research and consultancy firm Liases Foras.
The report tracks development across Mumbai Metropolitan Region (MMR), Delhi National Capital Region (NCR), Hyderabad, Kolkata, Chennai, Bangalore, Ahmedabad and Pune and is released quarterly.
The quarter saw absorption of 72.3 million sq ft of residential property against 75.6 million sq ft in the same period a year ago. On an yearly basis, five of the top eight major cities saw sales going down with the biggest realty market NCR seeing the sharpest drop at (-)14 per cent while Pune, Hyderabad and MMR saw demand improving.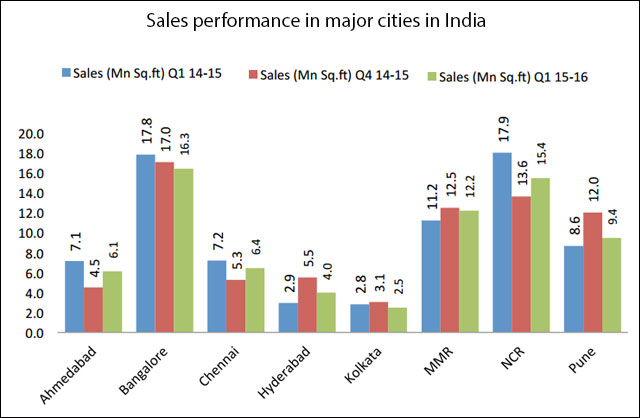 The unsold stock across top cities rose 18 per cent in the first quarter to 1,017 million sq ft against 858.84 million sq ft in the same period a year ago. The sequential rise, however, was lower at 8 per cent, the report said.
Weak sentiment among home buyers for the last many quarters has left developers in a lurch. As a result, realtors are attempting to pull in fence-sitters through freebies and flexible payment schemes.
They have also attempted to cut down the size of units without cutting base price to reach out to end-users in a market that has seen the flight of investors or those buying properties primarily as an investment. Data show that developers are now coming out with smaller units in an attempt to make their offerings affordable. Read here for more.
Among the top cities, Hyderabad is the only outlier as the rest have seen unsold stock go up ranging from 7 per cent to 55 per cent. The realty market of Hyderabad is expected to pick up gradually as the region has gained stability after the formation of Telangana state.
What is worrying about the unsold stock data is growing inventory in Bangalore. Considered a healthy market, the city has seen a jump of 55 per cent in unsold stock at 175.2 million sq ft in Q1 as against 113.21 million sq ft in the same period a year ago. This is not surprising as its sales have gone down by 8 per cent year on year and 4 per cent sequentially.

Even though NCR has seen only a 7 per cent rise in inventory in the quarter, mainly on account of lower launches, it remains at the top of inventory-laden markets followed by MMR.
Weighted average price across the markets remained almost stagnant at Rs 6,418 per sq ft, up by 0.4 per cent year on year. However, it has gone down marginally by 1.2 per cent quarter on quarter, the report said. The only markets to see decent appreciation in the last one year are Pune and Hyderabad while cities like NCR, MMR, Chennai and Bangalore have seen drop in the range of 1-2 per cent.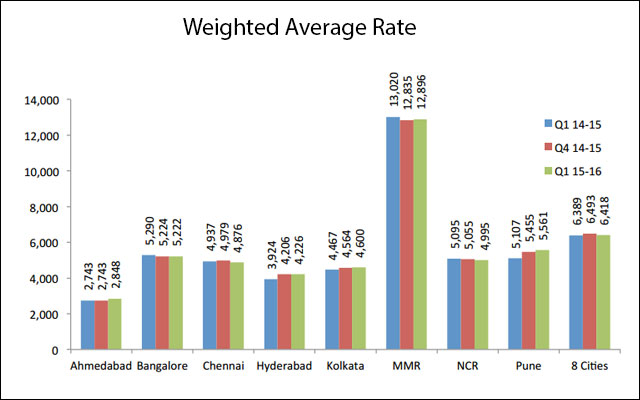 The continued slow demand and piling up inventory have led to a difficult situation for real estate where buyers are waiting for a better bargain while developers are only ready to pass on benefits in the form of freebies and payment schemes. Realtors are hoping to see demand revive with a further cut in home loan interest rates while the consumers are also looking forward to a moderation in housing prices to take the plunge.