Privately-held companies in the fast moving consumer goods (FMCG) space in India have outpaced their peers in the public domain, shedding light on the opportunity for private equity investors.
Although private companies are smaller in terms of revenues, they grew at a compound annual rate of 11% compared with 6% for listed firms in the six years to 2015-16, according to a joint study by VCCircle's data research arm VCCEdge and management consultancy AT Kearney.
The report attributed the stark difference in growth to better consumer connect, inorganic growth strategy and entry into global markets.
For instance, biscuit maker Britannia Industries Ltd, which owns popular brands such as Good Day and Tiger, grew at a CAGR of 14.4% between 2009-10 and 2015-16.
In the same period, privately held Parle, which maintains a monopolistic market share in the glucose biscuits market, grew at a CAGR of 21% while Anmol Biscuits, whose net sales are under a tenth of Britannia, also recorded an equally impressive growth of 20%.
"Anmol Biscuits adopted a volume-driven growth strategy rather than product innovation which emphasises on higher margins while targeting a niche segment," the report noted.
Margin woes; ROCE thumbs up
The study that analysed the financials of 76 listed and 373 unlisted companies in the Indian FMCG industry, including firms with annual turnover of over Rs 20,000 crore to small private firms with revenues of under Rs 10 crore, found that margins are tighter for private companies.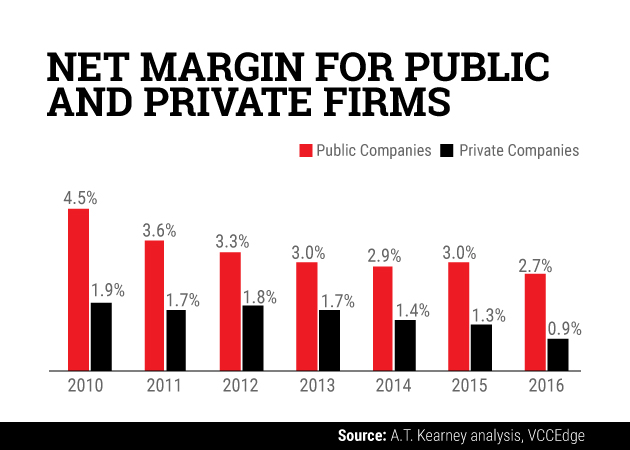 But private firms saw a 100 basis points (bps) shrinkage of margins against a 180 bps decline recorded by listed players in the six years to 2015-16.
The study found that margins have fallen across the spectrum as companies have invested into infrastructure development for tapping into new markets and product innovation.
"Due to the increased competition from private players and their niche offerings, public firms have increased their spend on advertising, sales and promotions, leading to higher margin erosion," it added.
Median net margins across the FMCG industry declined by 100 bps from 1.86% in 2009-10 to 0.86% in 2015-16.
On the flip side, return on capital employed (ROCE) improved to 13.4% during FY2015-16 against 10.4% in FY2008-09, due to better capital utilisation, reinvestment of profits in optimisation of manufacturing facilities and supply chain networks.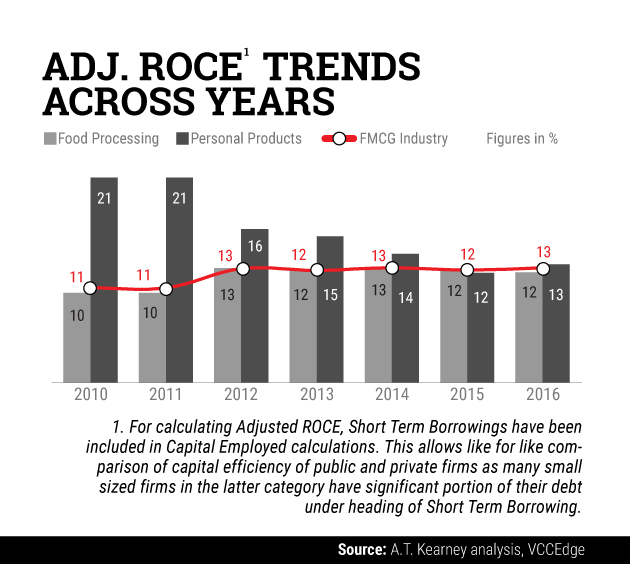 The report suggested that risk-averse investors should focus on large private FMCG firms while risk-seeking investors should cherry-pick by targeting mid-sized firms that have followed a growth-based strategy for expansion to new markets though profitability may be below industry averages in the initial years of operation.
In the last couple of years, mid-market consumer-focussed PE funds such as CX Partners and Peepul Capital have backed entrants such as Cremica Food and Maiyas Beverages.
How the FMCG pie looks like
Food processing and personal products are the two largest sectors accounting for about three-fourths of overall industry revenues. Both these sectors closely follow the overall FMCG trends.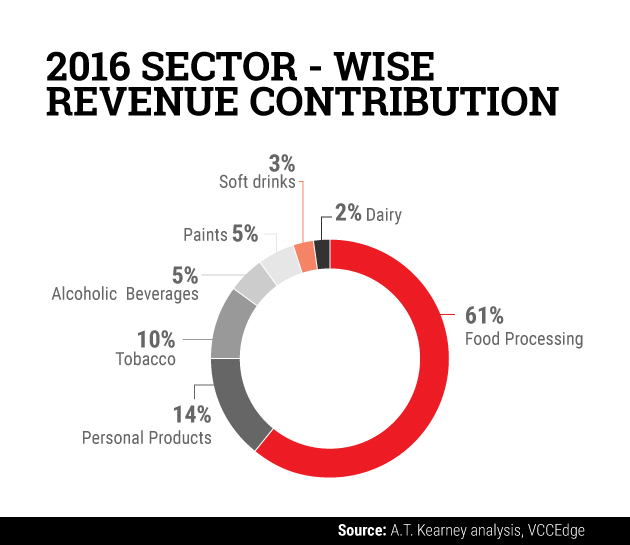 Tobacco is the third-largest category, but unlike food processing and personal products, its performance closely mirrors that of a few large players like ITC that dominate the category.
Other smaller sectors include carbonated soft drinks, dairy products and paints.
Indians smokers speeding ahead of snackers, bathers!
The FMCG industry has grown at a compound annual rate of 16% between FY2009-10 and FY2015-16, which is 200 bps higher than the nominal growth rate in the corresponding period.
In FY2015-16, the industry growth rate slowed significantly due to moderating macroeconomic factors like lack of rainfall, affecting agricultural income and high inflation.
Despite the lower demand, the median revenue numbers improved for all sub-sectors, with tobacco registering the highest growth at 27.5% CAGR, according to the report.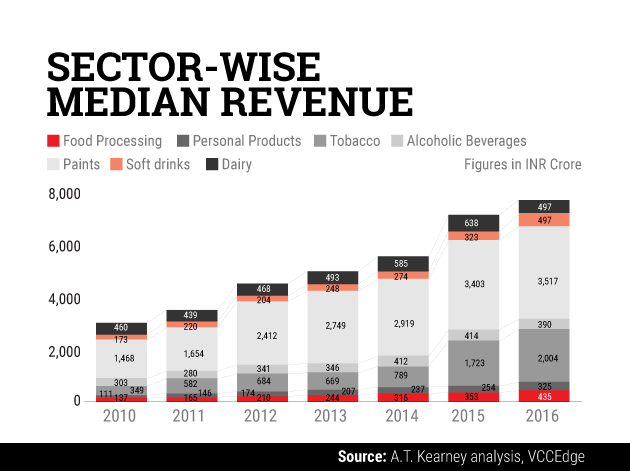 This was followed by food processing sector and personal products.