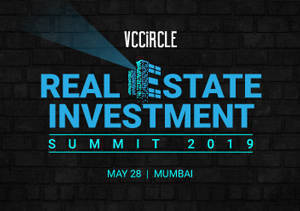 India's real estate market, which has attracted top dollars from global and domestic investors over the years, is going through an interesting phase where each asset class in the segment has taken a journey of its own.
The residential real estate segment, for instance, is emerging from the much-needed regulatory reform of Real Estate (Regulation and Development) Act (RERA), the impact of demonetisation and the Goods and Services Tax (GST). Meanwhile, the commercial properties segment has gone a step ahead in its evolution cycle and listed its first real estate investment trust (REIT).
At the other end of the spectrum, industrial real estate—dominated by logistics and warehousing—has become a hot favourite among investors.
One definitive trend is that rent-yielding assets—such as office buildings, malls, IT parks and warehouses—are on a strong footing and continue to attract greater capital than the residential segment.
Broadly, in the first four months of 2019, the sector attracted a total of $1.3 billion private capital across 14 debt and equity transactions. This is much better than the same period previous year, when the sector received $807 million across 19 transactions, as per VCCEdge, the data research platform of Mosaic Digital.
The real estate market saw a massive jump in capital flow in the years that followed the formation of the BJP-led NDA government. The strong capital flow stayed through 2014 and 2015 but it dropped and then gained some stability in 2017-2018. Last year, the sector pulled in a bit over $4 billion capital across debt and equity transactions.
The momentum of capital flow and general sentiment of investors for real estate will also largely get shaped by the upcoming results of the general elections, which are due on May 23.
To deliberate on the journey of India's real estate market, its dynamics, emerging themes and how each asset class is different from the rest in terms of opportunities and challenges, VCCircle is organising its maiden edition of Real Estate Investment Summit on May 28 in Mumbai. More on the event here.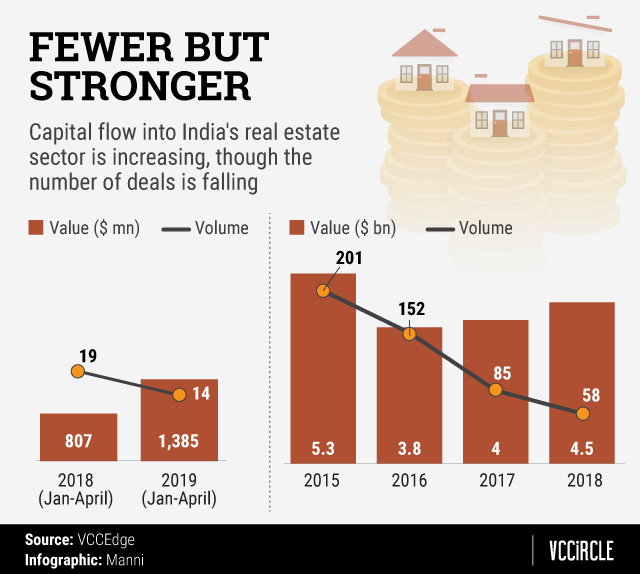 Even though the sector is trying to get back on track after the disruption caused by RERA and other policy changes, it continues to be broadly sluggish and industry watchers are yet to come out with a clear time frame as to when the market will bounce back to its heydays.
The affordable housing segment, which broadly includes units in the range of Rs 30-60 lakh, is staying strong with a slew of developers switching their strategies to meet demand. Also, developers have aligned itself to meet the requirements of real end-users given that speculative investors are out of the market.
As per the latest report of real estate consultancy Liases Foras, new launches grew 80% in the financial year 2018-19 across the top eight regions of the country, a sign that shows better health. This came months after the market hit a pause for new launches due to an inventory glut and policy initiatives by the government.
The report also highlighted that the affordable and mid-income segment, which is largely driven by end-users, has gained the most share in sales in recent quarters.
In the fourth quarter of 2018-19, sales in the price bracket of Rs 25-50 lakh captured 37% of the market. This was followed by the price bracket of Rs 50 lakh to Rs 1 crore, which took up a market share of 30%.
In the second half of 2018, the realty market faced a liquidity crunch after the meltdown of Infrastructure Leasing & Financial Services Ltd (IL&FS), one of India's biggest non-banking financial companies (NBFCs). The debacle made it difficult and costlier for NBFCs to raise funds. This, in turn, prompted them to take a cautious stance and virtually stop lending to the developers. Given that developers have become more dependent on NBFCs as banks have tightened their purse strings, the crisis led to a massive funding gap among housing developers.
Analysts say that the market will take months before attaining normalcy from a financing perspective and that it presents an opportunity to fund managers to pitch in.
Rent-yielding assets, whether offices, warehouses or shopping malls, have been a top option for global investors to pour in big bucks. While offices and malls continue to have a good run when it comes to investment, industrial real estate has gained prime significance among global giants.
The segment's first REIT listing by Blackstone and Embassy's joint platform has opened up a window for increased liquidity infusion into the office segment. The segment also remains largely unaffected by the dynamics that affect the housing market, such as interest rate fluctuation, income tax breaks and even election sentiment.
After the rollout of the GST in 2017, the warehousing and logistics segment is getting funding from the who's who of the investment fraternity, which has led to the formation of many tie-ups in the segment.
Warburg Pincus-backed logistics developer ESR Group last year teamed up with German asset manager Allianz Real Estate to invest around $1 billion in India's logistics and industrial property market.
Singapore state firm Temasek Holdings came in as a principal investor in Ascendas-Singbridge Logistics Programme that aims to invest $300 million in the segment. Meanwhile, in February 2019, Chennai-based Casagrand Builder Pvt. Ltd agreed to sell two warehousing assets with a leasable area of 2.2 million square feet to Logos India for Rs 700 crore.
The positive sentiment also allowed IndoSpace to scoop a large equity fund of $580 million that upsizes to $1.2 billion, creating a big chunk of investible money in the logistics segment.
Investors bullish on industrial real estate highlight India's economic growth. As per a research report by real estate consultancy ANAROCK, the logistics and warehousing sector transformed rapidly in 2018 after the government granted the coveted infrastructure status to logistics in November 2017.
In fact, warehouse stock supply is likely to see a substantial increase over the next two years owing to the implementation of the GST, the government's determined infrastructure push and increased interest from national and international investors. Overall, strong economic fundamentals, proactive reforms and increasing use of technology will continue to boost the sector.
To check out the confirmed speakers and to register for the event, click here.