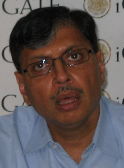 His perseverance has taken MR Phaneesh Murthy places over the last seven years. After seeing his career chart crash due to two sexual harassment cases soon after the dotcom bust, that too at a time when he was pipped as one of the key contenders for the top job at country's most respected IT services firm Infosys, the ambitious 48-year-old has led his company's (iGate) acquisition of Patni Computer, the company that can claim to be the progenitor of Infy.
The flamboyant IIT-IIM graduate, who was Director of Infosys and Head - Sales & Marketing and Communication & Product Services (CAPS) when he resigned in July 2002, won the race against odds. For one, Patni has been on sale for at least three years and getting all the three Patni brothers to agree to a deal was a task in itself, according to a company observer. The other big challenge was to fight off competing eye from Vivek Paul, an old industry counterpart who quit as CEO of arch rival Wipro few years after the exit of Murthy.
The maths Olympiad top scorer who wanted to study medicine but finally went by what his father suggested, took a contrarian call by joining Sonata Software instead of following his peers at IIM in the late 80s when FMCG was the hottest sector.
He left Sonata to join Infosys around the same time Indian economic liberalisation began. Murthy has come a long way from the time when his first year target was to get contracts worth $1 million from the US. For a company whose revenue that time was $2 million, it was a leviathan task. Rest is history.
The operations man who struggled to find vegetarian food when he landed in the US during the winter of 1992, the blizzard of harassment cases prompted him to get involved with consulting company Quintant that was backed by GMR group. The company was soon sold off to iGate Global Solutions (formerly Mascot Systems) and he let his own consulting start-up Primentor that Murthy set up along with wife Jaya to go to the back bench. But Murthy concentrated on building scale at iGate taking on his former employer Infosys.
The key challenge for him would be to see through a far bigger business consolidation than what he supervised when Quintant was snapped by iGate. The big question is what happens to K Jeyakumar who was brought in as a professional CEO by Narendra Patni with huge fanfare around two years ago. An Australian citizen, Jeyakumar reportedly is the highest paid IT executive in the country. What leg room will he carry with the hands-on Murthy is a question many have begun to ask.