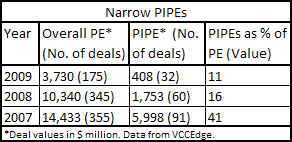 Private (equity) investment in public equity or PIPE deals are on a south-bound trip. Heavy mark-to-market losses following the market crash in 2008 and emergence of newer investment avenues have taken the sheen away from PIPE deals, once the preferred vehicle for many a new PE fund and global buyout shop.
PIPEs (private investment in public equity) are PE investments in listed companies which are usually held for 3-4 years and come with some rights.
As a percentage of overall value of private equity investments, PIPE deals have fallen from 41% in calendar year 2007 to 16% in 2008 to around 11% in 2009 (till December 18), according to data mined from VCCEdge, the financial research platform of VCCircle.
A far cry from the peak period in 2007 when new PE funds rushed to buy into the India growth story through PIPE deals.
Many players, who invested (in PIPE deals) at the end of 2007 and early 2008, suffered great MTM losses in the crash following the collapse of Lehman Brothers last year. Some also exited these investments at a loss. For instance, Singapore-based Orient Global exited its Rs 850-crore investment in financial services group India Infoline apparently at a loss of over 50%. While most of these investments have recovered, they still haven't reached the 2007 levels.
"The losses in 2008 may have led funds to take a more conservative approach since their portfolios might have taken a hit," said Keshav Misra, head of investments, consumer and fast-moving consumer goods, Baring Private Equity Partners India Ltd.
For instance, global private equity major the Blackstone Group, one of the most active in the PIPE space with three deals in FY08, has, since the meltdown, struck three transactions in privately-held companies.
In 2009, when PE deals were lowest since 2005, funds invested a total of $3.73 billion across 175 transactions of which $670 million were in public markets.
Many funds also did quick flips by buying into listed companies in September 2008-March 2009 period and then offloading them to cash in on the market rally that started in May 2009. If we exclude these quick flips, the value of PIPE deals stood at $408 million across 32 deals, which is 11% of this year's deal value, according to VCCEdge data.
Chennai-based investment bank Veda Corporate Advisors director Narayan Anand calls this buying of shares from market in non-negotiated deals as "a 2009 phenomenon." "Public markets were much cheaper and risks were lower. So, people invested opportunistically," he says. Sequoia Capital India, SAIF Partners, Standard Chartered Private Equity among others struck such deals and made profits in a short period.
The focus now seems to be on QIPs, says Vishal Gupta, director at Bessemer Venture Partners. The US-headquartered investment firm has closed two transactions in privately-held companies in the last six months.
Gupta says, investors prefer QIPs as PIPEs have a one-year lock-in period. Similarly, there is a preference for anchor investor deals compared to pre-IPO deals, he adds. Pre-IPO deals also have a lock-in of one year compared to anchor investor deals, which only have a 30-day freeze on sale.
Also, there is a class of PE funds that are looking at buyout transactions, ideally more suited to privately-held companies. Though buyouts are still a small part of the Indian PE landscape which is dominated by growth capital deals, there are more number of funds focused on this type of deals. Funds do not get a lot of negotiating room in public companies and possibilities of structured deals are also low.
There have been majority stake transactions in public markets but these deals involve complying with open offer norms and dealing with market regulator Securities & Exchange Board of India (SEBI), says Misra of Baring.
This is not to say that PIPE deals will completely fade out. They may just not reach their 2007 level anytime soon. PIPE deals bring many advantages, liquidity being the key driver. "You see your money every day and so the risk of getting locked out are much lower," says Anand. PE funds looking for investments of large size and scale may ultimately have to turn to public companies.
Another factor that could drive PIPE deal flow in the coming months is listed companies de-freezing their fund-raising plans. "We are seeing more PIPE deals with more promoters willing to dilute their stake for expansion and acquisitions," says Misra. Since September, there have been eight PIPE deals worth $197 million with the largest one coming in November when Apollo Management LP invested $100 million in direct-to-home operator Dish TV.
Valuations in private market mirror those of publicly-held companies, says Gupta of Bessemer. Deals in privately-held companies usually end up at the same multiples as listed companies. With the absence of a big valuation premium compared to private firms, publicly-held companies may continue to hold a lot of attraction for PE players.