A host of private equity players are in race to invest around Rs 300 crore in Hyderabad-based Ind-Bharat Power. Farallon Capital, L N Mittal Group, Lehman Brothers and TPG Growth, Actis and New Silk Route are reportedly eyeing a stake in Ind-Bharath Power Infra Limited. It was only in late 2007 that the power generation company landed a total of $70 million from Citigroup Venture Capital International and UTI Ventures.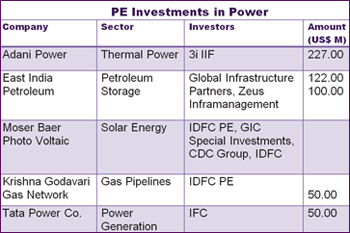 What makes Ind-Bharath interesting, are its clientele and projects in pipeline. Ind Barath Infra owns two biomass power plants (20 MW and 25 MW capacity) in Tamil Nadu, a 6.5 MW biomass plant in Andhra Pradesh, a 100-MW gas-based plant in Tamil Nadu and a 5-MW hydro-power plant in Himachal Pradesh. The gas-based project in Tamil Nadu is a group captive power plant, which means it sells almost all of the electricity generated to companies that hold an equity stake in the project.
All these projects have been executed by companies specially established for the purpose and Ind Barath Infra holds a majority stake in each one of them. The company's clientele includes TVS group, Amalgamations group and MRF. Ind Barath Infra has also tied up with some leading property developers for its coal-based plant that is coming up in Tuticorin.  The power sector requires a total investment of $155 billion in India. A lot of companies with favourable economics are being chased by private equity players. Please see the list of major PE investments in Power sector.