Private equity firm Kedaara Capital is in an advanced stage of discussion to acquire minority stake in Bangalore-based surgical equipment maker Sutures India Pvt Ltd from CX Partners.
The deal could be pegged at around Rs 400 crore and is expected to be closed shortly, Mint reported, citing persons privy to the development.
US-based private equity fund TPG Growth owns around 52% in Sutures, while CX Partners holds 20% with the rest held by the promoters. CX Partners had picked up a 37% stake in Sutures India for about Rs 200 crore in 2012 via a secondary deal where it bought out the entire stake held by India Life Sciences Fund.
The enterprise value of Sutures is $300 million (around Rs.2,000 crore) and investment bank o3 Capital is advising CX Partners.
IOC-led consortium agrees to buy 23.9% stake in Russia's Vankor
A consortium led by state-run Indian Oil Corp (IOC), BPCL and OIL has signed a pact to acquire 23.9% stake in Russia's Vankor oil field from Rosneft Oil Company for $2.1 billion, according to The Economic Times.
JSC Vankorneft, a company organised under the law of the Russian Federation, is the owner of Vankor and North Vankor Field licences. Rosneft currently holds 85% in Vankor. While IOC and OIL will buy up to 8% stake each, the remaining 7.8% will be picked up by BPCL.
Another Indian oil and gas explorer, ONGC Videsh Ltd, recently picked up 15% stake in the Vankor fields for $1.27 billion.
The recoverable resources of the Vankor field stands at 361 million tonnes of oil and condensate and 138 billion cubic metres of gas.
Govt may give retrospective green signal to errant projects
The government may clear the industrial projects that have come up without the mandatory green clearance, given the developers compensate for the damages they may have caused to the environment by breaching the rules, Mint has reported.
The ministry of environment, forests and climate change (MoEFCC) has put a draft notification to this effect online and has sought public feedback on the proposal.
It quoted M.K. Singh, a joint secretary in the ministry, as saying that the government wanted to bring such projects that violate environmental laws under environmental regulations. He further added that the notification doesn't mean automatic environmental clearance to projects.
Kalyan Krishnamurthy returns to Flipkart as head of categories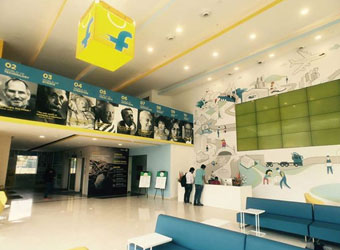 E-commerce major Flipkart's chief executive officer Binny Bansal has brought back Kalyan Krishnamurthy as head of categories, Business Standard has reported.A veteran at marquee investor Tiger Global that has been an investor in Flipkart since 2011, Krishnamurthy had joined Flipkart in early 2013 an served as the head of categories and as interim chief financial officer. In November 2014, he left the company to join the Singapore office of Tiger.
He was part of Flipkart's top management team during a period when the company saw phenomenal growth.
Tiger Global is also an investor in Flipkart's rival Amazon, which has recently committed a further $3 billion in its India unit, taking its total investment in the country since mid 2014 up to $5 billion.
In the three years Amazon has been in the country, it has been able to eat into Flipkart's market share, though the Indian firm continues to lead the space.
Like this report? Sign up for our daily newsletter to get our top reports.