Private equity deal activity has climbed a notch after hitting the bottom last year and has now settled at a higher plank with an average of a deal every day since the beginning of this year. Moreover, for the last three months running, the total value of PE deals have been over $500 million each month, which shows investor confidence is back after a pretty subdued 2008 and 2009.
Although the volume of PE deals (including angel funding and venture capital transactions) in April was down by a quarter over the peak in April'08 (when deal activity had just started downhill movement) with 34 transactions, it represented 6% sequential growth (over March 2010) and 55% jump over April 2009, according to data from VCCEdge, the financial research platform of VCCircle.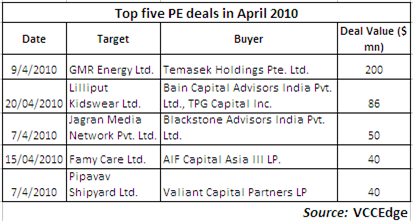 This was boosted by VC deals that tripled over April'09 and 66% increase in pure PE deals even as there were no angel investments last month.
In terms of value of PE deals, last month clocked $762.15 million led by $728.55 million worth pure PE transactions and the remaining coming from VC investment. Total deal value rose 168% over April'09 and was the highest in that month over the last four years, a period when PE deal-making gained traction in the country.
But, in terms of quantum of money, VC deals last month was less than half of what it was in April'08 even as it gained by 30% over April'09. Pure PE deals almost tripled over the same month last year and that explains the big jump in overall PE investments.
Last month was also the biggest April in India till date in terms of median PE deal values. The median deal amount was pegged at $17.8 million, more than double of April'09 and beating the previous best of $16.6 million in April'06 (an abnormal month due to KKR's debut deal where it acquired Flextronics for $900 million).
The average deal size, however, was much higher in April'06 because of the one big deal that pushed total average to $74.38 million. But with an average of $27.23 million, April'10 was almost twice as big as April'09.
Sectorally, consumer discretionary, healthcare and financial services recorded six deals each last month, more than half of the total. They were followed by IT (5), industrials (4) and utilities (3). In terms of value of deals, utilities emerged at the top largely due to the $200 million transaction where GMR Energy raised funds from Temasek. Beyond utilities, consumer discretionary and financial services were the other two prominent sectors attracting PE money worth more than $100 million each.