Reuters | Credit: Reuters
Microsoft Corp has agreed to sell its feature phone business to Foxconn unit FIH Mobile Ltd and HMD Global, a company run by former Nokia managers, for $350 million. Microsoft had purchased the business from Finnish handset maker Nokia in 2014.
Separately, Nokia said on Wednesday it will license its brand to Helsinki-based HMD Global in a deal will mark the return of the Nokia brand to the smartphone business. HMD Global plans to invest $500 million to introduce mobile phones and tables under the Nokia brand, Bloomberg reported.
Nokia once dominated the handset business but was overshadowed by rivals including Apple Inc. and Samsung Electronics as sales of smartphones surged while that of feature phones slumped.
SBI to merge associates, Bharatiya Mahila Bank with self
State Bank of India, the country's largest lender, has sought approval from the central government to merge its five associate banks and the newly created Bharatiya Mahila Bank with itself.
The board of the associate banks – State Bank of Bikaner and Jaipur, State Bank of Hyderabad, State Bank of Mysore, State Bank of Patiala and State Bank of Tranvancore -- have approved resolutions to pave the way for their merger with SBI. However, employees of these banks have decided to go on strike on May 20 in protest.
Meanwhile, speaking to The Economic Times, SBI chairman Arundhati Bhattacharya said the merger will result in the country's largest bank having a balance sheet size of $550 billion and the aim is to complete the merger in the current fiscal year and reduce costs.
Govt forms five-member panel on fiscal deficit range
The finance ministry has formed a five-member committee, headed by former revenue and expenditure secretary NK Singh, to review the Fiscal Responsibility and Budget Management (FRBM) Act and suggest a road map by 31 October.
The other members of the committee are former finance secretary Sumit Bose, chief economic adviser in the finance ministry Arvind Subramanian, Reserve Bank of India deputy governor Urjit Patel and National Institute of Public Finance and Policy director Rathin Roy.
"The Committee will make its assessment and provide its views on the expected impact of the expected impact of its recommendations on the general government deficit and other FRBM parameters," said the ministry.
The committee will also look into various factors, aspects, considerations going into determining the FRBM targets.
Five India-made car models fail Global NCAP crash tests
Five popular passenger vehicle models by Indian automakers -- Maruti's Celerio and Eeco, Renault Kwid, Mahindra Scorpio and Hyundai Eon -- have failed crash tests by vehicle safety group Global NCAP with zero star ratings. The companies have contested the test results.
Reuters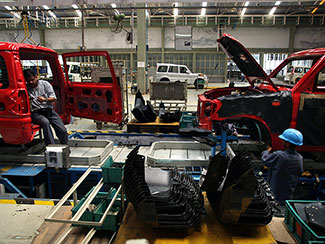 The UK-based group tested the five models and found that the vehicles "showed low levels of adult occupant protection".
To pass these tests, vehicles must carry some basic safety equipment such as dual airbags. "This is an absolutely crucial pre-requisite for occupant safety together with fitment at least of front air bags," said Global NCAP secretary general David Ward, adding that car makers must ensure that their new models pass the UN's minimum crash test regulations, and support the use of airbag.
India 12th top overseas holder of US government securities
India is the 12th largest overseas holder of the US government securities with exposure to the tune of $118.9 billion as of March-end, as per the latest data released by the US Treasury Department.
In February, India owned American government securities to the tune of $118.8 billion, while the exposure had touched $119.8 billion in January.
China remained the the top holder of these securities in March, despite reducing its exposure to $1.245 trillion from $1.252 trillion in February.
India is one place ahead of Saudi Arabia — whose exposure has been made public for the first time in more than four decades. Saudi Arabia's holding stood at $116.8 billion as of March 31. Among the BRIC grouping, the exposure of Brazil and Russia fell to $246.4 billion and $86 billion, respectively, in March.
Syndicate Bank writes off $132.5 mn against fraud
Syndicate Bank has written off Rs 882.64 crore ($132.5 millionn) in the quarter through March 2016 because of fraud at its branches in Jaipur and Udaipur in Rajasthan over the last four years.
During the October-December audit, the bank found that over 350 accounts had been opened at some of its branches and loans of a few crore rupees given to each on the basis of fraudulent documents, such as fake or non-existent cheques, letters of credit and insurance policies, the Mint reported.
While the bank hasn't classified these as bad loans yet, it has fully provided for them. In March, the Central Bureau of Investigation arrested some Syndicate Bank officials, income-tax officers, businessmen and a chartered accountant, as part of its investigations.