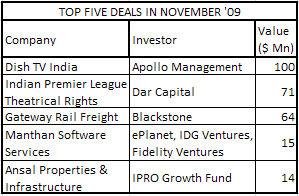 Private equity (PE) and venture capital (VC) firms cut, on an average, one transaction a day in November 2009, indicating clear signs of a pickup in deal activity. Although the absence of large PE transactions meant the total deal value was lower in November this year compared to same month last year, the number of deals rose to 29 against 22 in November 2008, according to data from VCCEdge, the financial research platform of VCCircle.
This was led by strong growth in VC and seed funding which accounted for more than half of all PE/VC deals last month. In the VC space those striking multiple deals include Intel Capital, Mumbai Angels and Gujarat Venture Finance Ltd's SME Technology Venture Fund.
Of the total 29 deals struck in November, 15 were VC/seed funding deals against just seven such transactions in the same month last year. In the same period, PE deals continued to lag with 14 deals last month as compared to 15 PE transactions in November 2008.
Given that PE deals are typically of larger size, the overall deal value last month stood at $374 million as against $484 million in November 2008, a decline of 22%. A few PE/VC deal transaction value stands undisclosed for both the period but that it unlikely to swing the overall picture in value terms.
The top three deals (above $50 million) last month included Apollo Management's investment in Dish TV through a GDR issue, Dar Capital deal for Indian Premier League's theatrical rights and Blackstone's investment in Gateway Distriparks. Over half of the deals were in the sub $10-million range.