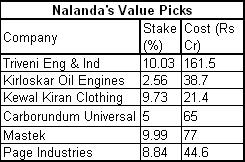 Singapore-based Nalanda Capital has picked up another 5.53% stake in Triveni Engineering & Industries Ltd from open markets on Tuesday. The stake has been picked up for a total sum of Rs 51.2 crore ($10.3 million) from CLSA Mauritius on the National Stock Exchange. Nalanda
already has a 4.5% stake in sugar production firm Triveni, and now its holds more than 10% stake. The 4.5% stake was picked up in late August for Rs 110 crore ($25 million) at a price of Rs 96 per share from Lehman Brothers. The stock has now plummeted to Rs 29.5.
Yesterday's deal, in which Nalanda bought the stake at price of Rs 35 per share, will bring its average price of purchase down for fund. Other funds like Delhi-based ChrysCapital and Singapore-based Tree Line Investment have also averaged the price of their investment.
Triveni Engineering, India's third biggest sugar producer, reported a 440% increase in its net profit for the quarter ended September 30. Besides sugar, it is also present in steam turbines and co-generation.Triveni's engineering division has an order book of Rs 710 crore.
Nalanda Capital has $400 million fund with a mandate to invest in listed Indian companies only. The fund is headed by Pulak Prasad, who was managing director with Warburg Pincus in India earlier, and went on to set up his own fund couple of years ago.